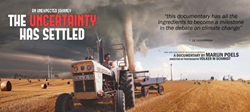 No one can reasonably say to this Court that he or she is responding to some higher obligation than obedience to the laws of British Columbia and therefore their disobedience should have no consequence... is in effect to say that he is literally an outlaw and therefore the law cannot touch him
CALGARY, Alberta (PRWEB) July 26, 2018
In a British Columbia Supreme Court ruling regarding protestors' violations of an injunction against trespass on the property of the Trans Mountain Pipeline Expansion project, Judge Affleck flatly rejected a defence that climate change was a higher obligation than rule of law in the province, says Friends of Science. (Docket: S183541 Trans Mountain Pipeline ULC v. Mivasair, 2018 BCSC 1239)
An excerpt of the ruling reads:
[14] Mr. S. submits he acted as he did, which he acknowledges was a public disobedience of the injunction, because there are much larger issues at stake such as climate change and aboriginal rights, to which he was responding. No one can reasonably say to this Court that he or she is responding to some higher obligation than obedience to the laws of British Columbia and therefore their disobedience should have no consequence. For Mr. S. to assert that proposition is in effect to say that he is literally an outlaw and therefore the law cannot touch him. That is not permissible in our society. Mr. S., and others who share his views, have an obligation to accept that their disobedience of the laws of this province, including the orders of this Court, will not be ignored by the courts. The alternative is to abandon the rule of law and accept anarchy.
[15] I find Mr. S. guilty of criminal contempt of court
As reported by Associated Press on June 26, 2018, Judge William Alsup also ruled against the climate change/public nuisance lawsuits brought by California cities against big oil." (Docket: 3:17-cv-06011)
CNBC reported on July 19, 2018 that a similar suit against big oil, brought by New York City was also tossed out of court. (Docket: 1:18-cv-00182)
In Canada, Maclean's magazine published an op-ed on July 19th, 2018 by Riley Yesno a student from Eabametoong First Nation and a member of the Prime Minister's Youth Council, claiming that ageist prejudice against youth is preventing their voices being heard on pipeline development and climate change. Yesno asked critics to "Tell me why you agree or disagree with me with real justification."
Friends of Science recommends that young people watch "The Uncertainty Has Settled" made by the young award-winning, independent Dutch filmmaker Marijn Poels on Vimeo: vimeo.com/ondemand/theuncertaintyhassettled.
Friends of Science also has a series of short video clips with Marijn Poels on the Friends of Science YouTube page. LINK: youtube.com/user/FriendsofScience/videos
Poels stumbled into the climate change controversy when he returned to Europe after nine years of work in poverty and conflict countries. He was shocked to find that climate and energy policies were making people poor, creating food insecurity and driving farmers to suicide.
Poel's new sequel "Paradogma" begins its European film tour in September and addresses the backlash he received for questioning climate change and energy policies. The film includes other social rebels. Poels tweeted the news on July 22, 2018: "Why true liberty needs heretics. The bull is loose!"
Friends of Science recommends that youth read Robert Lyman's "Just the Facts" on the Paris Agreement, posted on their blog. In the Foreign Affairs edition of Feb. 8, 2018, Ted Nordhaus, the nephew of economist William Nordhaus (who arbitrarily set the 2°C target for GHG reductions) explains that this target is a 'delusion,' and why.
About
Friends of Science Society is an independent group of earth, atmospheric and solar scientists, engineers, and citizens who are celebrating its 16th year of offering climate science insights. After a thorough review of a broad spectrum of literature on climate change, Friends of Science Society has concluded that the sun is the main driver of climate change, not carbon dioxide (CO2).
Friends of Science Society
P.O. Box 23167, Mission P.O.
Calgary, Alberta
Canada T2S 3B1
Toll-free Telephone: 1-888-789-9597
Web: friendsofscience.org
E-mail: contact(at)friendsofscience(dot)org
Web: climatechange101.ca