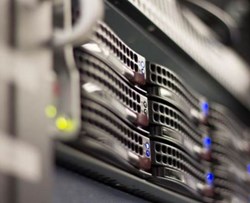 We want every Canadian Web Hosting client to experience world-class hosting and know they have a partner who can act as an extension of their business
Richmond, BC (PRWEB) November 20, 2013
Canadian Web Hosting (http://www.canadianwebhosting.com), a leading provider of web hosting, cloud hosting and infrastructure services in Canada, announced that they have completed a performance upgrade project for their budget dedicated servers and managed dedicated servers that take advantage of increased SSD storage capabilities, 50% more RAM per dedicated server and increased bandwidth capacity that increases overall server speed, throughput and reliability.
The newly launched dedicated server upgrades allow Canadian Web Hosting clients to continue to meet a wide range of web hosting requirements including high performance web site hosting, application hosting, database hosting and indexing – while benefiting from Canadian Web Hosting's focus on premium support and strict adherence to clients corporate governance and compliance requirements.
"We want every customer to experience world class hosting, and know that they have an infrastructure partner acting as an extension of their business," said Matt McKinney, Director at Canadian Web Hosting. "With these new server and infrastructure upgrades our customers are assured that they can meet the most demanding needs, and have the expert help for planning, deploying and managing their dedicated servers."
The upgraded dedicated servers will be available immediately in Canadian Web Hosting's Vancouver, BC and Toronto, ON data center locations. As always, each dedicated server includes data center grade hardware with flexible storage and RAID options, the latest generation of Intel Xeon E3 and Xeon E5 processors, up to 256 GB of RAM and premium technical support.
It is easier than ever to move to Canadian Web Hosting's enterprise-grade infrastructure and dedicated servers, industry-best 24/7 support, and safety and security of Canada's privacy regulations with a 100% Canadian-owned and –operated service. They offer free planning and migration services and potential customers can learn more by visiting http://www.canadianwebhosting.com or calling 1.888.821.7888 for more information.
About Canadian Web Hosting
Since 1998, Canadian Web Hosting has been providing on-demand hosting solutions that include Shared hosting, Private Clouds, Cloud Hosting, Dedicated Servers, and Infrastructure as a Service (IaaS) for companies of all sizes. Canadian Web Hosting is SSAE 16 Type II SOC 1 certified guarantees 100% network uptime and delivers premium support 24/7. Customers can get help by calling 1-888-821-7888 to get 24/7 support. For more information, visit them at http://www.canadianwebhosting.com, or get the latest news by following them on Twitter at @cawebhosting or by liking their Facebook page.