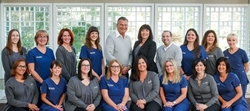 The All-on-4 dental implant procedure allows the periodontists to restore a patient's entire mouth with new teeth that rest on as few as four dental implants.
MOORESTOWN, N.J. (PRWEB) November 22, 2019
Angela Cocco, the Canal Calem Periodontics office manager, organized the most recent chapter meeting of the American Association of Dental Office Management (AADOM). Angela is a Fellow of AADOM and President of the Southern New Jersey AADOM Chapter. Minal Sampat, the event's keynote speaker, lectured on "How to Create a Doable Marketing Plan," providing useful knowledge for periodontists and teams that place dental implants in and around Moorestown, NJ. This meeting was open to all doctors, assistants, office managers and staff.
AADOM is an organization that helps promote and train dental office managers and their staff to better serve their community and practice. Members learn from professionals and their peers, connect with fellow, like-minded dental office staff and gain insightful information to assist them in daily performance. The lecture offered during this month's meeting educated attendees on how to create marketing plans for specific procedures and for the practice as a whole. This knowledge is often applied to dental implant treatment as the procedure is in high demand, yet many patients do not know enough about this solution for tooth loss.
Minal Sampat spoke at this chapter meeting of AADOM. Sampat is an experienced dental hygienist and marketing expert who has been featured in Forbes, Huffington Post, Dentistry IQ, Dr. Bicuspid and more. Her lecture was open, not only to office managers, but to entire practices. The meeting was recognized by the Academy of General Dentistry's Program Approval of Continuing Education, and those who attended earned five continuing education credits.
Canal Calem Periodontics values continuing education across their entire practice and represents this by hosting the Pinnacle Dental Study Club, South Jersey's chapter of the Seattle Study Club. The valuable skills these periodontists are constantly learning from continuing education is blended into the high standard of care that they offer at their Medford and Moorestown, NJ practices. Drs. Mario Canal and Ben Calem offer a wide variety of advanced procedures, from gum disease care to All-on-4® dental implant treatment.
The All-on-4 dental implant procedure allows the periodontists to restore a patient's entire mouth with new teeth that rest on as few as four dental implants. This drastically improves quality of life, including bite strength, chewing ability, speech and overall self-confidence. In addition to advanced dental implant surgery, patients visiting Canal Calem Periodontics can benefit from tooth extractions, bone grafting, and soft tissue treatments as well as soothing sedation dentistry. Dedicated to investing in advanced technology as well as continuing education, this practice offers a top-tier level of care.
Those interested in learning more about the practice or the study clubs are encouraged to call either practice location. The Moorestown, NJ practice can be reached at 856-203-6588, and the Medford, NJ location can be reached at 609-534-5541. More information can also be found online at http://www.canalcalemperio.com.
About the Periodontists
Canal Calem Periodontics offers modern periodontal treatments for patients in Moorestown and Medford, NJ. Since 1993, Canal Calem Periodontics has been a resource in South Jersey for providing comprehensive periodontal and implant therapy. Working closely with the general dentist, Drs. Mario J. Canal and Ben Calem strive to improve their patients' oral health and re-develop their dentition, where necessary. Both Drs. Canal and Calem are active in the community through their involvement with Donated Dental Services and The Holocaust Survivor's Program. In addition, their strong belief in organized dentistry has led them both to serve as President of the Southern Dental Society. To learn more about the services they offer or to schedule a consultation at Canal Calem Periodontics visit http://www.canalcalemperio.com or call 609-534-5541 for the Medford, NJ office or 856-203-6588 for the Moorestown, NJ location.