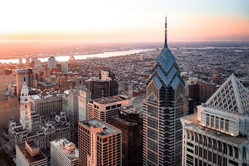 "CanAm has been partnering with PIDC for the past 15+ years to offer alternative financing to businesses in Philadelphia and we are excited to introduce our new financing structures that are tailored for real estate projects. We are very delighted to extend our partnership even further." - John Reid
PHILADELPHIA (PRWEB) December 09, 2019
CanAm Enterprises ("CanAm") is excited to announce that its senior staff will be joining representatives of the Philadelphia Industrial Development Corporation ("PIDC") at the PIDC Impact Development Advisory Committee meeting. CanAm will be represented by Skip Stern, Managing Director, Legal Affairs; Walter Gindin, Director, In-house Immigration Counsel; John Reid, Director, Project Development and Audrey Bauer, Real Estate Investment Associate. PIDC, a long-time partner of CanAm, is Philadelphia's official public private economic development corporation.
In addition to providing an update on new regulatory changes to the EB-5 program which became effective on November 21, 2019, CanAm and PIDC will also present unique preferred equity and mezzanine debt financing opportunities to Philadelphia-based real estate developers.
For nearly two years, PIDC has been working with a 100+ member Advisory Committee on Impact Development, which includes for-profit and nonprofit developers, community development organizations, bankers, investors, philanthropic leaders, and city officials. CanAm is thrilled to be working with PIDC to bring impactful real estate projects to Philadelphia.
"CanAm has been partnering with PIDC for the past 15+ years to offer alternative financing to businesses in Philadelphia and we are excited to introduce our new financing structures that are tailored for real estate projects. We are very delighted to extend our partnership even further," said John Reid, Director, Project Development at CanAm Enterprises.
The Partnership between PIDC and CanAm Enterprises was established in 2003, creating the PIDC Regional Center for the EB-5 Immigrant Investor program. The PIDC Regional Center provides EB-5 ("Welcome Fund") loans to real estate and infrastructure projects with strong sponsorship/guarantors. Since closing its first project in 2004, the PIDC Regional Center has funded more than $700 million for 30 projects in Philadelphia.
About CanAm Enterprises
With three decades of experience promoting immigration-linked investments in the United States and Canada, CanAm has a long and established track record. Basing its business on a reputation of credibility and trust, CanAm has financed 60 projects and raised nearly $2.9 billion in EB-5 investments. More than $1.3 billion in EB-5 capital from over 2,600 families has been repaid by CanAm's 40 projects to date. CanAm exclusively operates seven USCIS-designated regional centers that are located in the city of Philadelphia, the Commonwealth of Pennsylvania, the metropolitan regions of New York & New Jersey, the states of California, Hawaii, Florida, and Texas.
For more information, please visit canamenterprises.com.