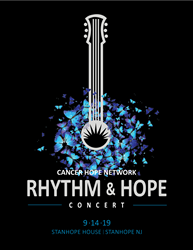 "I love music, and I hate cancer!" Steve Ziolkowski, Non-Hodgkins' Lymphoma survivor, Cancer Hope Network Support Volunteer and Hope Overdrive's lead guitarist
CHESTER, N.J. (PRWEB) September 10, 2019
One began his musical career with a Flutaphone (that's a recorder to the rest of us fourth-graders). Another started piano lessons at age five. Others sing in community choirs, perform regularly with area bands, have travelled the nation with choirs. They've hosted concerts, written and recorded songs. Music has been a lifelong passion. Each has been touched by cancer in some way.
Together, they're Hope Overdrive and they will make their debut performance at Rhythm & Hope Concert – a concert benefiting Cancer Hope Network. The Rhythm & Hope event will be held at 6 pm on Saturday, September 14 at Stanhope House (45 Main Street, Stanhope, NJ). Tickets are $15 presale and $20 cash the day of the event. (Information - http://www.cancerhopenetwork.org/RhythmAndHope)
The benefit will also feature performances from Craig Adderley, The House Rockers, Zeke Carey Band and the Dirty Shine.
"I grew up signing in school choirs, church choirs. My mom even delayed my birth because she had a concert she needed to sing in," laughs Cynthia Gutierrez Bernstein, CHN's Executive Director and Hope Overdrive vocalist. Today, she's a member of the Concord Singers and looking forward to the Rhythm & Hope benefit as a way to connect with the community. "I know personally how devastating a cancer diagnosis can be to a family. We want to reach people that we may not have reached before, people who may not be a part of our Cancer Hope family, but who are also affected by cancer."
Steve Ziolkowski is a Non-Hodgkins' Lymphoma survivor, CHN Support Volunteer and Hope Overdrive's lead guitarist. His reason for volunteering – and taking part in the concert – is simple, "I love music, and I hate cancer!"
In addition to Gutierrez Bernstein and Ziolkowski, Hope Overdrive will include the musical stylings of Rachel DiQuattro, CHN's Director of Programs, Bob Lehane and Dr. Bob Lange, both friends of the organization. Lindsay Tasher, Vice President of Cancer Hope Network's board of trustees, will sing vocals and also emcee the evening.
"I've lost way too many friends and family members way too soon to cancer, and have had way too many friends and family members have to fight," Tasher, who is married to Ziolkowski, says. "I've also had way too many conversations with people who tell me they wish they had known about Cancer Hope Network when they were battling the disease. I volunteer with Cancer Hope Network to make sure that no one, no matter what, faces cancer alone."
"I love to sing, and I love the cause, what we're doing," agrees DiQuattro, who has been singing and performing in public since she was five years old. For her, the mission is personal. "I lost my grandfather and my uncle to cancer. I've seen the suffering they went through. I've also heard from our clients how CHN's service changes their perspective on the entire experience of cancer."
Dr. Bob Lange, a well-regarded bassist who provides bass, acoustic guitar and vocal talent to the group, lost two aunts and his daughter's second-grade classmate to the ravages of cancer. He counts himself fortunate that his father-in-law and best friend from college are now survivors. His reason for participating?
"Frankly, a big part of my inspiration comes from the many talented people who can organize events like the Rhythm & Hope concert. People who are able to find ways to make life better for cancer patients, who are finding ways to pull other people in, and who manage to gather and contribute valuable resources."
Lange's musical collaborator for more than a decade, Hope Overdrive's Bob LeHane (a lifelong musician who moonlights as a bankruptcy attorney), agrees.
"Like so many, my family has also been touched by cancer. My mother-in-law died just six months before our daughter was born. My father lived with prostate cancer for 13 years after diagnosis. My younger brother Ted is a survivor. I volunteer for Hope Overdrive and fundraisers like Bankrupt Talent because I feel blessed to be able to do what I love the most – play live music – while at the same time supporting people affected by cancer and the search for better treatments and cures."
For more information about the Rhythm & Hope event or to schedule an interview with Hope Overdrive, please contact Sarah Miretti Cassidy, CHN Director of External Affairs – 908.879.4039 ex 120.
About Cancer Hope Network
Cancer Hope Network provides free one-on-one emotional support to adult cancer patients and their loved ones. Each of CHN's 400+ volunteers is at least one year post-treatment or successfully undergoing maintenance therapies. They have faced more than 80 cancer types and speak 15 languages. Volunteers offer support from diagnosis, through treatment and into recovery. Cancer Hope Network serves cancer patients in the United States and Canada.