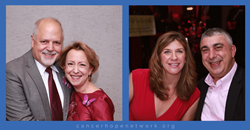 Tom and Dave's talent, their personal experiences with cancer and their passion for helping cancer patients and the people who love them are a terrific addition to the Cancer Hope Network community.
CHESTER, N.J. (PRWEB) January 22, 2020
Bongiorno is Partner and VP for Wireless Innovations LLC and holds his MBA in Marketing from Pace Graduate School of Business. He has been a staunch supporter of the organization for many years. "I first learned of Cancer Hope Network's impressive work when my wife Diane, a cancer survivor, was trained as a Support Volunteer," he recalls. "Ever since that experience, I've been committed to the mission of providing hope for patients and caregivers facing cancer. Serving as a Trustee is an opportunity to create new connections and to help ensure that the CHN mission is fulfilled."
Tom and Diane received CHN's Spirit of Hope award in 2018, recognizing them as an "extraordinary source of support to Cancer Hope Network."
"Tom has been a part of the Cancer Hope Network family for many years," says Executive Director Cynthia Gutierrez Bernstein. "He brings business acumen and creative insights to the organization, combined with a personal passion for our mission. We are honored that he has agreed to serve as a trustee."
Ondrejcak is Partner at C2R Ventures, a national Consulting and Search firm based in NYC. He has an MBA from Seton Hall University and is a licensed CPA in New Jersey, as well as a member of both the AICPA and NJSCPA. He is a recognized leader in accounting and finance transformation, completing projects for several S&P 100 and Global 500 companies throughout his consulting career.
"My wife Heather is a cancer survivor, which makes Cancer Hope Network's mission personal," Dave says. "I am proud to volunteer with this organization as I can personally attest to the positive benefits CHN's support brings to the personal, work and family life of individuals. This is a truly stressful time of their lives and serving as Treasurer for Cancer Hope Network is a way to leverage my expertise to help ensure no one faces cancer alone."
"Robust systems and oversight provide a foundation to ensure Cancer Hope Network is able to serve clients efficiently and effectively," said Gutierrez Bernstein. "Dave's experience in accounting, internal controls and systems are a valuable addition to the organization. We're pleased that he is sharing that expertise with our community and are excited that Dave and Tom are joining us as we grow."
About Cancer Hope Network
Cancer Hope Network provides free one-on-one emotional peer support to adult cancer patients and their loved ones. Each of CHN's 400+ volunteers is at least one year post-treatment or successfully undergoing maintenance therapies. Their care is individual, but there's power in numbers. Together, they've faced more than 80 types and sub types of cancer. Which means that they're prepared to help more than 98% of the 1.7M patients who will be diagnosed this year. They speak 15 languages. Cancer Hope Network volunteers offer support from diagnosis, through treatment and into recovery.