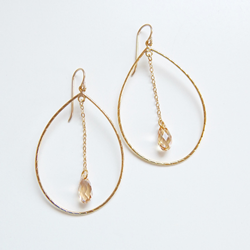 A great hoop earring never goes out of style!
REDLANDS, Calif. (PRWEB) December 19, 2018
Handcrafted jewelry designer Ruthie Youngman, founder/designer at LoveYourBling® (http://www.LoveYourBling.com), is celebrating her tenth television placement, with Candace Cameron Bure (playing D.J. Tanner-Fuller) donning a pair of her Gold Teardrop Hoop Earrings for Season 4, Episode 9 of Netflix's "Fuller House." The episode aired December 14, 2018.
This is the second time LoveYourBling jewelry has been worn by Ms. Bure on "Fuller House." The company's jewelry designs have also been seen on "BrainDead," "Cedar Cove," "Hart of Dixie", "Jane the Virgin", "Pretty Little Liars" and "The Vampire Diaries".
The Gold Teardrop Hoop Earrings were selected for Ms. Bure to wear by the wardrobe stylist for "Fuller House" in collaboration with California-based entertainment marketing organization The Artisan Group®, as part of its ongoing initiative to introduce Hollywood to the best of the handcrafted movement.
In a statement, LoveYourBling founder/designer Ruthie Youngman said, "I was delighted to learn my jewelry was once again selected for Candace Cameron Bure to wear on "Fuller House." It was all the more exciting this time around since the "Perfect Sons" episode marked Candace's "Fuller House" directorial debut."
Ruthie is a firm believer that a great hoop earring never goes out of style. She notes these 2 inch long beauties, with their hand-wrapped topaz-hued Swarovski Crystal teardrops, are the perfect way to add a touch of drama and sparkle to any outfit, not only during the holidays but year-round. The earrings retail for $28.00 and are available to purchase at LoveYourBling.com.
In partnership with The Artisan Group®, LoveYourBling's artisan jewelry designs have been included in celebrity gift bags for GBK's Golden Globes and MTV Movie Awards Gift Lounges.
Television highlights include Andi McDowell (as Olivia Lockhart) sporting a pair of Floral Hand Painted Earrings on the season 3 premiere of "Cedar Cove", Yara Martinez donning a Blush Crystal and Rose Gold Bracelet for "Jane the Virgin", Emily C. Chang wearing a pair of Trinity Earrings on "The Vampire Diaries" and Brandi Burkhart showing off Rose Gold Dangles on "Hart of Dixie."
Actress Cathryn de Prune (Fargo) was photographed wearing LoveYourBling earrings at red carpet events and fashion shows during 2015 LA Fashion Week; the earrings were gifted to the actress at GBK's 2015 Golden Globes Celebrity Gift Lounge. In 2014, Meredith Och of NPR and Sirius XM was photographed wearing a LoveYourBling necklace with country band Big & Rich.
LoveYourBling has been interviewed on Small Business Digest. Its Painted Floral Earrings were showcased in the "Bead Style Magazine" January 2016 issue. The company was also featured by INTERWEAVE in its "Create Jewelry Magazine," where Ruthie contributed to the Design Tips section. Online marketplace Etsy has showcased the company's Alice in Wonderland Tea Cup Necklace on its Front Page.
To learn more about LoveYourBling, contact Ruthie Youngman by email using the contact button. Become a fan on Twitter, Pinterest, Instagram (@loveyourbling) and Facebook (@loveyourbling1). Shop LoveYourBling at LoveYourBling.com and LoveYourBling.etsy.com.
ABOUT LOVEYOURBLING®
LoveYourBling® (http://www.LoveYourBling.com) by Ruthie Youngman melds the designer's passion for art, fashion and collecting vintage tea cups, Swarovski beads and miniature toys. The result is eye-catching jewelry for all occasions. Equal parts vintage glam and minimalist modern, Love Your Bling represents easy-going, classic style with flair.
LoveYourBling is a Swarovski Crystal Elements Partner and a member of The Artisan Group®.