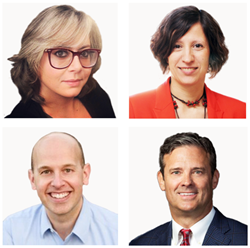 Candid president Brad Smith said, "Our board is one of Candid's greatest assets, and I look forward to working together with with Naila Farouky, Rosa Gallego, Matt Gee, and Rhett Mabry."
NEW YORK (PRWEB) May 12, 2020
Candid announced the appointment of Naila Farouky, CEO of the Arab Foundations Forum; Rosa Gallego, director of International Relations for Asociación Española de Fundaciones; Matt Gee, co-founder and CEO of BrightHive; and Rhett Mabry, president of The Duke Endowment to its Board of Trustees as of May 1.
Candid president Brad Smith said, "In order to get people the information they need to do good, we benefit from the guidance and expertise of leaders working in technology, business, and global philanthropy. Our board is one of Candid's greatest assets, and I look forward to working together with Naila, Rosa, Matt, and Rhett in this new capacity."
Naila Farouky is CEO of the Arab Foundations Forum (AFF), a regional, membership-based association of foundations and philanthropic entities working across the Arab Region. During her tenure, Naila has successfully revitalized the network by increasing membership, broadening the geographic footprint of the network, and significantly increasing funding support for the organization. Naila also currently serves as Chair of the Board of Directors for Worldwide Initiative for Grantmaker Support (WINGS Network) and serves on the boards of ArteEast (New York), the Resource Alliance (global), and The Family Hub (Egypt). Twitter: @nfarouky
Rosa Gallego is director of International Relations for Asociación Española de Fundaciones (AEF; Spanish Association of Foundations), a membership association with 800 members that represents and advocates for foundations in Spain. Rosa is responsible for the international activities of the association, as well as for the regional groups. She is also involved in data-gathering initiatives of the foundation sector in Spain, where AEF is the leading organization in the field. Rosa helped create the Global Philanthropy Data Charter launched by Worldwide Initiative for Grantmaker Support (WINGS Network) and is on the WINGS board. Twitter: @irosagallego
Matt Gee is co-founder and CEO at BrightHive, a public benefit corporation building data collaboratives that power smarter government and more effective social service delivery. Matt is also a Data and Society Fellow at University of Chicago's Knowledge Lab. He was the co-founder of the Eric and Wendy Schmidt Data Science for Social Good fellowship, and is widely recognized a leader in the application of data science, machine learning, and AI to social sector challenges. Twitter: @matthewgee
Rhett Mabry is president of The Duke Endowment. During his tenure as Director of the Child Care, Rhett played a key role in redefining the Endowment's approach to children's services. The foundation expanded its Child Care beneficiary list beyond residential group care to include prevention and early intervention providers. As president, he has begun carrying out the Board of Trustees' vision for an organization-wide strategic focus on early childhood issues. Rhett has served on the North Carolina Governor's Early Childhood Advisory Council and is a past board chair of the Southeastern Council of Foundations. Twitter: @dukeendowment
Candid's Board of Trustees Chair, Vice President of Walmart's Customer Product (eCommerce) division, T. Sylvester John, said, "We are confident Naila, Rosa, Matt, and Rhett will provide valuable insights and leadership as Candid confronts global challenges and mission-driven opportunities."
Full bios for Naila Farouky, Rosa Gallego, Matt Gee, and Rhett Mabry are on Candid's Board of Trustees webpage.
About Candid
Every year, millions of nonprofits spend trillions of dollars around the world. Candid finds out where that money comes from, where it goes, and why it matters. Through research, collaboration, and training, Candid connects people who want to change the world to the resources they need to do it. Candid's data tools on nonprofits, foundations, and grants are the most comprehensive in the world. Foundation Center and GuideStar joined forces to become Candid, a 501(c)(3) nonprofit organization. Find out more at candid.org and on Twitter @CandidDotOrg.