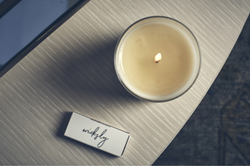 A wax warmer will avoid releasing soot and other chemicals into the air.
CHICAGO (PRWEB) April 19, 2021
The luxury candle makers at Wicksly have released their latest informational guide relating to household aromatics, this time centered around the use of a candle wax warmer. These products offer both advantages and drawbacks as compared to a monthly candle subscription, and are only advisable for use under the proper conditions. In its guide, Wicksly details what exactly a candle wax warmer is, how to use one, and if one might be right for you.
A wax warmer is a product that uses a ceramic heater or light bulb to heat aromatic wax melts; these don't utilize candles at all. Instead your warmer will take specially-made wax in the shape of a melt, tart, or cube; using a different method to heat a wax melt could prove to be dangerous and aren't advised. Wicksly points out that these are easily utilized by preparing the wax, possibly breaking it into smaller pieces with a knife or by hand, and then inserting them into the warmer as instructed. Be sure to remove plastic from the bulb or insert a liner if necessary. With two to three small pieces of wax in the warmer they will melt easily on their own, without need for water or oil.
In some cases, a candle warmer can be safer than a traditional candle, as it doesn't require an open flame, but can still lead to hazards like hot wax spills or outlet issues. Additionally a wax warmer will avoid releasing soot and other chemicals into the air, but clean-burning candles also avoid this. Those wanting traditional but safer wax are advised to pursue either soy wax or beeswax. Wax melts can contain chemicals like toluene and alkanes that cause lung damage and agitate asthma symptoms in some people, so be sure to research the type of wax used in your warmer. Additionally it's important to still monitor a wax warmer in the same way that you would a traditional candle.
Despite that, max melts do need to be replaced more frequently than a burning candle, and will lose their aroma at a faster rate due to their smaller size, making them more expensive. These also fail to mirror some of the ambiance provided with a monthly candle subscription, but are a safer alternative for those with concerns. However they are not the only available option, and it should be noted that those creating clearer candles with organic materials will offer similar levels of health and safety by minimizing chemicals released into the air.