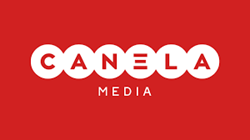 This film challenge will be our first of a series of challenges to highlight multicultural content created by emerging talented filmmakers that celebrate Latin culture and life
NEW YORK (PRWEB) November 30, 2021
Canela Media, an industry-leading, female and Latina-owned digital media company, has partnered with AudPop, the global video platform and video creator marketplace, to empower Latin filmmakers with the AudPop Latin Film Challenge. Latin filmmakers are invited to submit short and long form documentaries and fiction films to AudPop's Latin Film Challenge, sponsored by Canela Media. Filmmakers have until January 10, 2021 to submit their films.
"AudPop is the preeminent leading curator of short films around the world," said Isabel Rafferty, CEO and Founder of Canela Media. "This film challenge will be our first of a series of challenges to highlight multicultural content created by emerging talented filmmakers that celebrate Latin culture and life."
Submitted films will be juried by AudPop staff and Canela.TV programmers. Finalists will be judged by a top-notch industry jury panel including Isabel Rafferty of Canela Media. The top 30 films will be voted on by the global audience and the finalist jury. The top 15 films as determined by Canela Media will receive AudPop Premium Filmmaker Status and a non-exclusive distribution deal to screen on Canela Media's popular AVOD platform Canela.TV. In addition to a distribution deal, winners will receive cash prizes.
"We are thrilled to launch the first of many Latin Film Challenges with Canela Media to highlight the important multicultural segment of independent filmmaking," said Paige Williams, CEO & Founder at AudPop. "These talented filmmakers have such incredible stories to share with all of us, thanks to our partner Canela Media for helping to bring them to TV screens everywhere."
To learn more about the industry jury panel and full submission details for the AudPop Film Challenge, visit: https://audpop.com/opportunities/canelamedialatinfilmchallenge
About AudPop
AudPop is a next-gen video creator platform and marketplace that connects businesses to great video creatives and filmmaker talent. Through proprietary software and a network of 75,000 global video creators and filmmakers, AudPop has connected thousands of creators to opportunities awarding over $10M to its community. Since 2013, AudPop has promoted the creation, curation and promotion of authentic storytelling content and its storytellers. Its annual festival, AudFest, brings together brands and filmmakers, audiences and authentic stories to facilitate creativity, collaboration and change. AudPop.com
About Canela Media
Canela Media is a leading digital media technology company offering brands a complete ecosystem to connect with multicultural audiences starting with its free streaming service, Canela.TV, which enriches the new generation of U.S. Latinos with free access to unique, culturally relevant content. In addition to TV content, Canela Music features a unique blend of Latin music programming, featuring various genres from Latin Pop, Regional Mexican, Classics, Romantic, and more.
Canela Media reaches more than 22 million unique Hispanics across its 180+ premium Spanish-language sites and influencer database. Combined with the company's proprietary data, Canela Media possesses in-depth knowledge and understanding of how to establish meaningful and culturally relevant connections with the new mainstream – U.S. Hispanics.
Headquartered in New York, Canela Media is ranked as the third largest Hispanic ad-focused company and the only female- and minority-owned certified digital company. For more information please visit http://www.CanelaMedia.com.