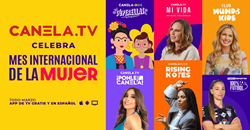 We celebrate women all year long at Canela Media, but International Women's History Month gives us a moment to pause and highlight many of our Latina trailblazers and future leaders across our content verticals: entertainment, music, kids and sports
NEW YORK (PRWEB) February 27, 2023
Canela Media, a leading, minority-owned technology driven company committed to redefining digital media experiences for the Latino community, will be celebrating International Women's History Month this March with special programming across all its verticals, including Canela.TV, Canela Kids, Canela Music and Canela Deportes. Presented by Target, the celebratory programming will be supported by curated content meant to highlight Latina trailblazers for their work that continues to add value to our communities.
"We celebrate women all year long at Canela Media, but International Women's History Month gives us a moment to pause and highlight many of our Latina trailblazers and future leaders across our content verticals: entertainment, music, kids and sports," commented Isabel Rafferty Zavala, Founder and CEO of Canela Media. "I'm especially proud of our Canela Originals featuring stars like Kate del Castillo and Roselyn Sánchez and our animated series SúperEllas aimed at inspiring future Latina leaders premiering on March 8th on our newly launched Canela Kids app."
Canela.TV will feature episodes from their extensive content library that highlight 'Women Trailblazers' (Mujeres Poderosas) including those from the Canela Original docu-series "Mi Vida". This intimate series is supported by outstanding Latina stars in the entertainment industry, most notably the new profiles of Ludwika Paleta and Gaby Espino releasing in March among the already available episodes with Kate del Castillo and Roselyn Sánchez. This collection will also feature episodes from the Canela Original unscripted series 'Secretos de Villanas,' as well as 'Chavela,' "Evita Vive,' and 'Maria Montez,' among many others. Canela.TV will also feature female-led content in two separate collections: 'Protagonistas de Novelas' and 'Mujeres de Películas' (Women in Film).
Beginning on March 3, '¡PONLE CANELA!' and 'Canela News' will premiere four separate interviews saluting notable women in entertainment and inspiring female difference makers, respectively. Some of the participants who will be featured include, Mexican singer and actress Alejandra Ávalos, the 'Reina Grupera' Ana Barbara, Mexican classical ballet dancer Elisa Carrillo, and the first Mexican-born Woman in Space Kat Echazarreta.
Canela Kids will also be joining in on the celebration of International Women's History Month with its "Chicas Al Poder" Collection, that includes the new educational series "SúperEllas," meant to engage and inspire children through colorful chronicles that explore the lives of Latinas who have inspired generations, such as Frida Kahlo, Celia Cruz, Rita Moreno, Selena Quintanilla, Ellen Ochoa, Isabel Allende, and Lorena Ochoa. The animated series will premiere exclusively on Canela Kids, March 8.
Canela Deportes will offer a 'Women in Sports' special that will include interviews with Mexican soccer league players, such as Janelly Farías, Renaé Cuéllar, and Yaneisy Rodríguez. Finally, Canela Music will highlight top female artists celebrating women in the music industry, with a spotlight on the original series "El Couch de Emma" and "El Top 10" featuring Queens Among Queens. Also, curated song playlists like "Puras Reinas", among others.
About Canela Media
Canela Media is a leading, minority-owned technology driven company offering brands a complete ecosystem to connect with multicultural audiences starting with its free streaming platform service, Canela.TV, which enriches the new generation of U.S. Latinos with free access to unique, culturally relevant content. In addition to TV content, Canela Media offers a unique blend of music programming through Canela Music featuring emerging and established Latino artists, Spanish-language Children's content through Canela Kids and sports programming through Canela Deportes.
Canela Media reaches more than 50 million unique Hispanics across its 180+ premium Spanish-language sites. Combined with the company's proprietary data, Canela Media possesses in-depth knowledge and understanding of how to establish meaningful and culturally relevant connections with the new mainstream – Hispanics across the U.S. and Latin America.
Headquartered in New York, Canela Media is ranked as the fourth largest Hispanic ad-focused company and the only female and minority-owned certified digital company. For more information, please visit http://www.CanelaMedia.com.