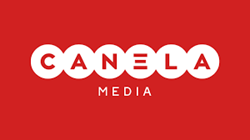 Prior to Canela News, U.S. Latino cord cutters weren't able to get access to the serious Spanish-language, U.S.-centric news that they wanted. There was a void in the market which presented an opportunity for Canela News to fulfill that demand
NEW YORK (PRWEB) February 10, 2021
Canela Media, an industry-leading, certified minority, female and Latina-owned digital media company, today announced the launch of Canela News, the first free live-streaming newscast for U.S. Latino cord cutters. The Spanish-language daily newscast will cover topics most relevant to US Latinos, including breaking news, sports, immigration, and more.
On March 8, 2021, Canela News will begin broadcasting daily live 30-minute segments Monday-Friday at 6pm ET and repeats at 9pm ET on the advertiser-supported streaming service Canela.TV, which will also be distributed on free, ad-supported streaming TV (FAST) channels. There will also be a daily segment focused completely on sports. On Fridays, it will air a special 5-minute segment called "Buenas Noticias" bringing inspirational good news to lift the Latino spirit.
Commenting on the launch of Canela News, Isabel Rafferty, CEO & founder of Canela Media, stated, "Viewing habits of U.S. Latinos are rapidly changing as more of this audience shifts to digital platforms and abandons traditional TV. Prior to Canela News, U.S. Latino cord cutters weren't able to get access to the serious Spanish-language, U.S.-centric news that they wanted. There was a void in the market which presented an opportunity for Canela News to fulfill that demand."
According to eMarketer, in 2021, over 6 million U.S. households will cut the cord with pay TV, bringing the total number of cord-cutter households to 31.2 million. However, most streaming services are geared towards English-speaking audiences and tastes, with a smattering of content gathered from around the Spanish-speaking world.
Rafferty continued, "Brands aiming to reach U.S. Latino audiences in the U.S. are looking at OTT and CTV consumption to address the changing habits of this audience. With Canela News, brands are getting a first-to-market opportunity to own the sports news segment, one of the most important passion points for Latinos as well as an association with uplifting content through our 'Good News' segment."
Canela News is made for Latinos by Latinos, with a team of producers and anchors delivering culturally relevant content led by Alejandro Medina who previously ran the TV Azteca national newscast. Esteemed journalist and TV host Jimena Duarte will be the anchor for the Daily Newscast. René Romero, an international sports commentator and journalist with over ten years of experience, will anchor the Daily Sportscast.
Rafferty concluded, "Every single initiative we undertake is all about providing brands with the best of both worlds—the ability to reach multicultural consumers at scale with general market technology and know how. Our unique in-depth knowledge and understanding of how to establish meaningful and culturally relevant connections with multicultural audiences is what sets us apart. We will continue to forge meaningful connections with our audience through our growing variety of high-quality content options."
Launched in May 2020, Canela.TV is a streaming service that enriches the new generation of U.S. Latinos by providing free access to unique, culturally relevant content. With more than 10,000 hours of entertainment for adults and children including comedies, docuseries, novelas, cartoons, dramas and action films, the brand aims to disrupt the television model and serve as the destination for premium video at home and on-the-go. Canela.TV can be accessed anytime, anywhere at no cost and is now available for download on the App Store and Google Play, Roku, Apple TV, Android TV, Amazon Fire TV and smart TVs.
ABOUT CANELA MEDIA
Canela Media is a leading digital media tech company offering brands a complete ecosystem to connect with multicultural audiences leading with its free streaming service, Canela.TV, offering on-demand Latino-focused movies and TV entertainment through multiple platforms. Additionally, Canela Media reaches more than 22 million unique Hispanics across its 180+ premium Spanish-language sites and influencer database. Combined with the company's proprietary data, Canela Media possesses in-depth knowledge and understanding of how to establish meaningful and culturally relevant connections with the new mainstream – U.S. Hispanics. Headquartered in New York, Canela Media is ranked as the fourth largest Hispanic ad-focused company and ithe only female- and minority-owned certified digital company. For more information please visit http://www.CanelaMedia.com.