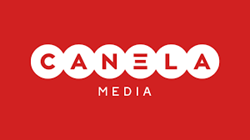 We will continue to add engaging Hispanic content to our library - from the latest in drama to everything happening in sports - in order to allow our users to celebrate and connect with their culture
NEW YORK (PRWEB) March 10, 2021
Canela.TV, one of the first AVOD streaming services for U.S. Hispanics, has officially launched its app on VIZIO SmartCast, the award-winning smart TV platform. Canela.TV is now available to millions of SmartCast TV users in the U.S., offering over 10,000 hours of entertainment for adults and children including comedies, docuseries, novelas, cartoons, dramas and action films.
"Canela.TV is in great company with the content lineup being offered to VIZIO SmartCast TV viewers," said Isabel Rafferty, CEO & founder of Canela Media. "We will continue to add engaging Hispanic content to our library - from the latest in drama to everything happening in sports - in order to allow our users to celebrate and connect with their culture."
"VIZIO is dedicated to providing consumers with instant access to an ever-expanding library of content options," said Katherine Pond, Vice President of Business Development for VIZIO. "We're excited to provide SmartCast users access to Canela.TV, which offers VIZIO's multicultural audiences, particularly those looking for Spanish-language content, more diverse entertainment options to choose from."
Canela.TV is the popular video platform from Canela Media, an industry-leading female and Latina-owned digital media company. For additional information on Canela.TV please visit: https://www.canela.tv/
About Canela Media
Canela Media is a leading digital media tech company offering brands a complete ecosystem to connect with multicultural audiences leading with its free streaming service, Canela.TV, offering on-demand Latino-focused movies and TV entertainment through multiple platforms. Additionally, Canela Media reaches more than 22 million unique Hispanics across its 180+ premium Spanish-language sites and influencer database. Combined with the company's proprietary data, Canela Media possesses in-depth knowledge and understanding of how to establish meaningful and culturally relevant connections with the new mainstream – U.S. Hispanics. Headquartered in New York, Canela Media is ranked as the fourth largest Hispanic ad-focused company and the only female- and minority-owned certified digital company. For more information please visit http://www.CanelaMedia.com.
About VIZIO
Founded and headquartered in Orange County, California, VIZIO's mission is to deliver immersive entertainment and compelling lifestyle enhancements that make our products the center of the connected home. VIZIO is driving the future of televisions through its integrated platform of cutting-edge Smart TVs and powerful SmartCast operating system. VIZIO also offers a portfolio of innovative sound bars that deliver consumers an elevated audio experience. VIZIO's platform gives content providers more ways to distribute their content and advertisers more tools to target and dynamically serve ads to a growing audience that is increasingly transitioning away from linear TV.