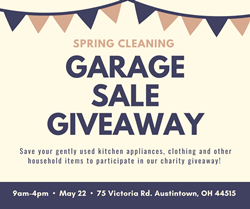 "We're thrilled to safely welcome everyone to our warehouse for this event and we hope everyone will consider donating to the Salvation Army," said Sam Boak. "This will be a fantastic time and a great way for all of us to help someone in need."
YOUNGSTOWN, Ohio (PRWEB) April 13, 2021
This time of year, "spring cleaning" is a popular theme among homeowners. Clearing out items that are no longer used can be therapeutic for many but can also create an opportunity to help someone else in need. That's exactly what Sam Boak, president and founder of Boak & Sons, Inc. reached out to the Canfield Rotary Club to hold the Boak Garage Sale Giveaway. On May 22 from 9am to 4pm, the Boak & Sons warehouse will be full of gently used items, including anything from household appliances and clothing to tools and some furniture (no cushions).
Boak & Sons employees have been clearing their homes of these items in preparation for this event. While the initial idea was to hold a large garage sale in the warehouse, Sam Boak decided that every single item at the event will be completely free of charge. The only money spent will be optional donations that will go to the Youngstown Salvation Army, Red Kettle or Beatitude House.
"We all have things we don't use in our homes that others could benefit from," said Sam Boak. "I pride myself in knowing how passionate the employees here are about helping the community and giving back, and this gives us an opportunity to do so."
Each individual who attends the event will be allowed to bring one box and have 30 minutes to fill with items of their choosing. Whether you have one person in your party or ten, everyone gets one box. Not all items will be out at once to prevent over-crowding, but items will be restocked throughout the day. Restocking throughout the day will give everyone the opportunity to find great items and prevent over-crowding.
"We're thrilled to safely welcome everyone to our warehouse for this event and we hope everyone will consider donating to the Salvation Army," said Sam Boak. "This will be a fantastic time and a great way for all of us to help someone in need."
To ensure the safety of all attendees, masks and social distancing will be enforced during the entire event. The company's large warehouse provides more than enough room for social distancing and comfort. For extra precaution, attendees will be sent inside in small groups and only given 30 minutes to shop. Attendees are welcome to bring their own box, but boxes will also be available at the event.
All of our friends who have been so greatly impacted need the public to drop off any items they'd like to donate to the Boak & Sons warehouse at 75 Victoria Road in Youngstown, Ohio. We want to have as much as possible to help as many as we can. Items must be clean and in working condition and can be dropped off any weekday from 9am to 4pm.
For more information about this event, interested attendees are encouraged to reach out to Sam Boak or any of the employees of Boak & Sons by calling 330-793-5646. For more information about Boak & Sons and their services, visit http://www.boakandsons.com.