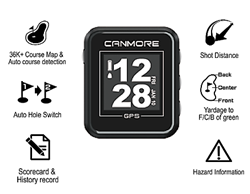 "These streamlined new products have been crafted to be sleek and smooth as well as practical, offering an alluring design. Ahead of the holiday season, the CANMORE GPS Golf Watches and Handhold Devices are exceptional gift options for anyone who enjoys golf or has a healthy and active lifestyle."
TAIPEI, Taiwan (PRWEB) November 19, 2019
The market for GPS enabled gadgets has become more sport-specific nowadays. Users demand a smarter device to assist in their sporting activities as a way to improve their performance. CANMORE, the expert in sport GPS electronics, is thrilled to announce the TW-203, TW-402 Multiple Sport GPS Golf Watches, and the H300 GPS Golf Handheld Device on Amazon.com. These new releases come on the heels of the successful launch of CANMORE flagship product, the TW-353 GPS Golf Watch, with a near-perfect rating on Amazon. CANMORE dedicated to providing an interface smart, cost-effective, and ultra-reliable GPS watches and handheld device for golf and fitness enthusiasts.
The TW-203 and TW-402 Multiple Sport GPS Golf Watches, and the H300 GPS Golf Handheld Device equipped pre-loaded golf course data covering courses over 108 countries, with a total of more than 38,000 courses. The onboard GPS can quickly and accurately recognize nearby golf courses and provide an exceptional golfing experience for novices and experts alike. The TW-402 features heart rate monitoring, daily fitness calculations, daily steps walked, calories burned, walking distance, and a virtual trainer (professional training mode). To further customize the fitness experience, the TW-402 offers multi-sport options, allowing users to choose their activity from golf, running, jogging, cycling, swimming, and triathlon.
CANMORE H300 Handheld Device - The perfect balance between simplicity and functionality
Golfers will enjoy the golf-specific features from H300 Handheld Device, such as auto-hole function. This feature will track the player and automatically switch the hole when they are within 30-yards of the green and then move 30 yards away from the green. Besides, the scorecard, history records, the shot distance, and hazard zone information are just one press away. Yardage to the front, middle, and back of the green are all shown on the same interface without any screen switching required allowing golfers can catch all useful information at a glance. The H300 also features a high-quality battery that can last a whopping 60-days in standby and 12-hour in GPS mode, and the 3ATM waterproof design performs well in all weather conditions. H300 is easily attached to the golf bag or belt using the smart magnetic clip design. All functionalities of H300 designed for simplicity with intuitive user experience.
The TW-203 Multi-Sport GPS Golf Watch- Made for golfing and sports training!
The TW-203 offers the same golf-specific features found in the H300 and comes with several exciting upgrades adding 240x240P higher-resolution Monochrome LCD panel and 5ATM waterproofing for all-weather training and, most importantly, TW-203 provides fitness-friendly functionalities, which include a fitness tracker for tracking user workouts, such as daily steps, walking distance, and calories burned. It takes the guesswork out of the exercise, making your routine smarter and much more manageable. Besides, TW-203 also supports smartphone app connection allowing the user to receive instant smartphone messages easily through the watch and sync fitness records automatically. The smartphone APP is available for both IOS and Android systems.
The TW-402 LCD Multi-Sport Golf Watch - A smartwatch for golf and sports
With the TW-402 LCD Multi-Sport Golf Watch, users can expect the same golf features as with the H300 and TW-203, plus a stunning colorful LCD panel in 64 color RGB at 240x240 pixel resolution. The RGB panel improves visibility and identification during the sports training events. A built-in wrist heart rate sensor allows users to monitor and track the daily heart rate efficiently. Bluetooth 4.0 connectivity found in the TW-402 enables the watch to sync with the smartphone to help users never miss important calls and messages. When matched with the CANMORE mobile APP, the training logs and fitness stats are downloadable.
"These streamlined new products have been crafted to be sleek and smooth as well as practical, offering an alluring design. "says Ginny Hsu, sales manager at CANMORE. "Ahead of the holiday season, the CANMORE GPS Golf Watches and Handhold Devices are exceptional gift options for anyone who enjoys golf or has a healthy and active lifestyle."
MSRP:
H300 $ 99.00
TW203 $ 139.00
TW402 $ 169.00
Amazon Link:
H300: https://amzn.to/35i1FXY
TW203: https://amzn.to/35cSQhP
TW402: https://amzn.to/33UVecV
To know more about CANMORE: http://www.canmore-sport.com
Product image and marketing assets download: https://bit.ly/2KuKhan
About CANMORE
CANMORE is a Taiwan-based tech company established since 2008, aims to deliver innovative GPS and Sport watches and devices for sports enthusiasts. Our mission is to create and provide practical, performance-enhancing, and multi-functional watches and gadgets for people who love outdoor activities. CANMORE products are guaranteed to be durable, waterproof, intuitive, smart, and safe. We create an advance way of optimizing your athletic performance. With CANMORE, you are inspired to do more!
CANMORE - A Clever Choice.
Media Contact
Andrew Ouyang
iDée Creatives Marketing Consulting Inc. on behalf of CANMORE SPORT INC.
andrewouyang@ideecreatives.com