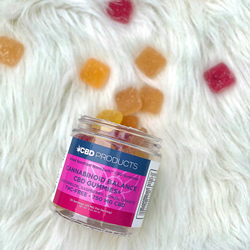 LA JOLLA, Calif. (PRWEB) November 04, 2020
Cannabinoid Balance CBD Gummies + are a delicious way of getting an added daily dose of CBD. Cannabinoid Balance CBD Gummies+ are NanoZorb™ infused, vegan squares that come in four great flavors. They are a great way to get fast-acting and effective CBD relief because NanoZorb™ Technology gives Cannabinoid Balance products 90% absorption into the bloodstream vs 18% with other non-nano products.
Cannabinoid Balance CBD Gummies+ are:

Crafted from registered organic USA hemp
Non-THC / Non-GMO and CO2 Extracted
Free from Winterization, Decarboxylation, and pesticides
Formulated using proprietary NanoZorb™ Technology
So whether your symptoms be associated with MS, Parkinsons, Opioid Addiction, Epilepsy, High Blood Pressure, Stress, Anxiety, Low Energy, Arthritis, Tendonitis or something else, Cannabinoid Balance Original+ is crafted to support you.*
They are all-natural and free of synthetics, sugar, binders, fillers, wax, shellac, talcum, and animal gelatin. It contains no yeast, wheat, corn, soy, gluten, salt, dairy, artificial flavors, sweeteners, colors, or preservatives.
*The statements and products referred to by Cannabinoid Balance have not been evaluated by the FDA.
---
NOTES TO THE EDITOR
---
CBD Products Inc. is a multi-channel, CBD publishing and retail company established in 2018 that owns and operates cbdproducts.com, cbdworldnews.com and cbdpet.com. In the last year CBD Products Inc. has welcomed more than 25,000 people to their sites and offered information and resources across more than 100,000 page views.
CBD Products Inc. is also the owner of Cannabinoid Balance. A line of consumer products that includes Cannabinoid Balance Original+, Cannabinoid Balance Sleep+, Cannabinoid Balance CBD Gummies+, Cannabinoid Balance Pain Relief Cream and Cannabinoid Balance Pet+. These products are sold via http://www.cbdproducts.com and include proprietary NanoZorb™ Technology designed to make Cannabinoid Balance products more effective and efficient.
It was founded by Anthony Tribunella in 2018. Anthony has worked in all aspects of the industry from growing to production, to publishing and retailing. With more than a decade of experience in CBD and a passion to see the industry become organized and honest, Anthony is rapidly becoming a shining light, thought leader and conscience for the industry he cares so deeply about.
For more information on CBD Products Inc. please visit http://www.cbdproducts.com or email contact@cbdproducts.com.