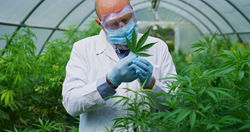 "Our goal to instill public trust in Cannabis through effective courses and resulting professional certifications." - Robert Calkin
LOS ANGELES (PRWEB) June 10, 2020
The Cannabis Career Institute today announced its new training platform called CCI Online and the release of its first course, a professional certification for Budtenders. Designed to address a chronic shortage of a skilled workforce in the booming Cannabis industry, CCI is overcoming today's limitations on in-person training by bringing engaging and relevant courses through its new CCI Online venture. CCI Online will be including skills certification for each of its courses, designed to become the industry standard for growing, harvesting and commercializing this once controversial plant.
Cannabis Career Institute was founded in 2009 and has been helping the once fledgling industry through workshops, seminars and consulting services. Founder, Robert F. Calkin is a lifelong advocate of cannabis legalization and medical marijuana and envisions CCI Online as a powerful force in normalizing the industry. In announcing CCI Online, Calkin says, "We've come a long way from the Smoke-Ins of the 70's and are now starting to see the widespread benefits of this amazing plant be realized. I've spent my career advocating for mainstream acceptance of Cannabis and now that this is occurring, I want to see those in the business start to act like an industry and focus on quality and responsible conduct." Calkin founded Cannabis Career Institute to provide a support system for people trying to start their own medical marijuana businesses, creating a curriculum focusing specifically on compliance and how to create and market brands. This vision of CCI Online is to move these enterprises into commercial scale.
To produce the courses, assessments and credentials, CCI has turned to AgTechEDGE, a pioneer in the use of adaptive learning for the all types of indoor growing. According to Dr. Sue Raftery, the founder and CEO of AgTechEDGE, "the partnership to develop credible assessments for the Cannabis industry is critically needed today. Regulators have rushed to license people and companies, but these licenses are more focused on integrity than they are about competency. The Cannabis industry is flooded with newcomers, many who have never grown, packaged or sold a plant-based product. Regulation implies that product is inspected and meets agricultural quality standards, yet none exist today. AgTechEDGE is happy to begin the process of having qualified, skilled workforce behind the myriad of products being developed from Cannabis and Hemp plants."
The announcement of the CCI Online partnership includes the release of their first course and a certification for Budtender. A Budtender works within a retail outlet/dispensary in which cannabis products are sold. As the "salesperson" Budtenders answer questions, showcase products and offer suggestions to customers. Graduates of CCI Online's Budtender course will be expected to master learning objectives tied to Cannabis Products, Cannabis Chemistry and Therapeutic Effects. According to CCI Online's Calkin "it is our goal to instill public trust in Cannabis through effective courses and resulting professional certifications and the Budtender is the most logical place to start. From here, we expect a series of courses, assessments and certifications to expend into the growing facilities."
To register, visit the Cannabis Career Institute Online.
About Cannabis Career Institute
Cannabis Career Institute (CCI) is America's first and premier marijuana business training center, creating the content and methodology employed across this burgeoning industry. Former CCI students are now Captains of this flourishing industry thanks to tireless advocacy of founder Robert F. Calkin. Hundreds of marijuana related businesses have grown with the help of Cannabis Career Institute and its sister companies Cannajobs.com employment registry and Cannaworx. See more about the Cannabis Career Institute.
About AgTechEDGE
With a vision of "Building Skills to Feed the World" online education pioneer Dr. Sue Raftery started AgTechEDGE, personalized learning at large scale powered by Area9 Lyceum's adaptive learning platform. Now part of TechEGE, a learning platform that adapts to what students already know, the company is designed to help vocational and technical training serve today's learners. AgTechEDGE fills the need for skilled agriculture workers globally and supports their on-going training needs with a library of existing course material or the ability to adapt customer material to their innovative, engaging and adaptive learning environment. See more about AgTechEDGE.