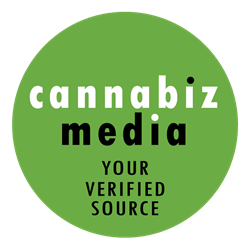 "We utilize the Compliance Verification API to conduct audits for our banking clients, providing priceless peace of mind that they are building relationships with legitimate licensed businesses. Well worth the investment!" -Tony Repanich, President & COO, Shield Compliance
GUILDFORD, Conn. (PRWEB) December 05, 2019
Cannabiz Media has introduced a real-time Compliance Verification API for its premier cannabis and hemp industry intelligence platform.
The Compliance Verification API enables users to enter a state-issued cannabis or hemp business ID right within their own app or environment and instantly access current status and licensing details for the applicable business, and also allows users to monitor statuses on a continual basis to detect lapses or complications. This technology provides a streamlined and reliable process for compliance and will directly benefit the banking industry, real estate industry, and many others that need to confirm license validity and data accuracy before entering into business relationships.
"The Cannabiz Media verification API makes it easy to quickly access the most accurate license information for anyone who needs to responsibly verify the operating status of state-licensed cannabis and hemp businesses," explains Ed Keating, Co-founder and Chief Data Officer for Cannabiz Media. "There is currently no other way to get this information in a fast and reliable way so businesses can confidently adhere to all relevant compliance requirements."
Cannabiz Media Business, Business+, and Enterprise subscribers who add the verification API to their accounts can verify state cannabis and hemp business licenses without logging into the Cannabiz Media platform, making the process highly streamlined. Keating shares, "Subscribers who need to verify multiple licenses can request results in bulk rather than searching for each individual license. The license verification API was built to save time while ensuring users have access to the most up-to-date information so they can make critical business decisions."
Leaf Trade, a wholesale marketplace between cannabis cultivators, processors and dispensaries, has been using the Cannabiz Media verification API with excellent results. Andrew Graf, Sr. Product Manager for Leaf Trade, says, "We use the verification API to automate our verification steps when setting up new buyers and sellers on our platform. It was very easy to implement! The API is simple and straightforward, and we were able to build a successful integration in just a few days."
The Cannabiz Media Compliance Verification API has many real-world use cases. Keating explains, "The banking industry is an excellent example of an industry that benefits significantly from the API. For example, banks can quickly pull the state ID numbers from cannabis or hemp industry client applications and verify their business interests as reported in the applications. As more banks start offering financial services to licensed cannabis and hemp businesses, having access to the verification API in the Cannabiz Media platform will help financial institutions streamline processes and meet compliance requirements in an efficient, reliable, and affordable way."
Shield Compliance President and Chief Operating Officer, Tony Repanich, agrees. "Cannabiz Media is a leading data source in the cannabis industry. We utilize the Compliance Verification API to conduct audits for our banking clients, providing priceless peace of mind that they are building relationships with legitimate licensed businesses. Well worth the investment!"
Learn more about the Cannabiz Media platform and Compliance Verification API by requesting a free demo here: https://cannabiz.media/welcome/.
About Cannabiz Media
Cannabiz Media, the leading verified cannabis and hemp industry intelligence platform, combines a lead database, sales CRM, email marketing, and research engine in one. The platform contains verified information on over 55,000 licensed cannabis and 26,000 licensed hemp operations across the United States, Canada, and numerous international markets. Cannabiz Media subscribers benefit from targeted lead generation, license holder contact and operational data, powerful marketing tools and analytics, up-to-date regulatory information, daily news alerts, and compliance verification capabilities in one easy-to-use platform. For more information, visit http://www.cannabiz.media.