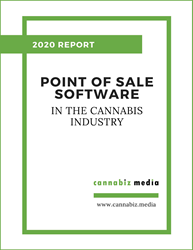 In 2019, the top five point of sale vendors accounted for 69% of market share in the cannabis industry, but that percentage dropped to 66% in 2020.
GUILFORD, Conn. (PRWEB) November 02, 2020
Cannabiz Media, the company behind the only CRM and verified lead database for the cannabis industry – the Cannabiz Media License Database, released results from its third annual study analyzing the industry's point of sale (POS) software market in the United States. The "Point of Sale Software in the Cannabis Industry: 2020 Report" is available for free download at https://cannabiz.media/pos-report-2020.
The Cannabiz Media research team made 14,232 phone calls to interview licensed cannabis dispensaries and retailers across the country and supplemented the primary data with results from emailed questionnaires. In total, the team gathered data from 2,426 of the 7,081 active dispensaries and retailers nationwide, which is estimated to be 34% of the market.
The new report shows the number of POS vendors providing software to cannabis dispensaries and retailers in 2020 remains steady at 68 with 13 vendors dropping out of the market since 2019 and 13 new vendors entering. The leading vendors continue to dominate the market, but there have been some notable changes since the prior year.
"In 2019, the top five POS vendors accounted for 69% of market share in the cannabis industry, but that percentage dropped to 66% in 2020," shares Ed Keating, Co-founder and Chief Data Officer for Cannabiz Media. "We also found some notable changes in terms of which vendors dominate the market with some losing share and others gaining, particularly as it relates to switching vendors."
The top five POS vendors in the cannabis industry in 2020 according to the report are: 1) Green Bits; 2) BioTrack; 3) Flowhub; 4) MJ Freeway; and 5) Indica Online.
The market share leaders vary at the state level in 2020. "Key states for the dispensary story in 2020 are Oklahoma, California, and Michigan," says Keating. "In Oklahoma, market share leaders are Indica Online, Flowhub, Cova, and BioTrack, while the leaders in California are currently Indica Online, Treez, Meadow, Green Bits, and Blaze. In Michigan, Portal42 is the market share leader followed by Flowhub and Green Bits."
For the first time, Cannabiz Media researched switching behavior to determine which vendors were gaining and losing market share as the result of customers switching from one POS software to another. Keating explains, "Based on the data, companies like Green Bits, MJ Freeway, and Indica Online added more than they lost, but others, including BioTrack, only lost customers. States where vendors experienced the most software switching since 2019 are California, Oklahoma, Colorado, Oregon, and Washington, in that order."
The full report provides detailed data on overall market share as well as market share in California, Oklahoma, Michigan, medical-only states, and adult-use states. In addition, the report includes comparisons to 2018 and 2019 data, an analysis of switching behavior by vendor and state, and the full list of 68 POS vendors operating in the cannabis industry in 2020.
Cannabiz Media will continue to gather and verify license and POS data and will share updates in future "Point of Sale Software in the Cannabis Industry" reports.
Download the free report here: https://cannabiz.media/pos-report-2020.
About Cannabiz Media LLC
Cannabiz Media, the leading verified cannabis and hemp industry intelligence platform, combines a lead database, sales CRM, email marketing, and research engine in one. The platform contains verified information on over 61,000 licensed cannabis and 48,000 licensed hemp operations across the United States, Canada, and numerous international markets. Cannabiz Media subscribers benefit from targeted lead generation, license holder contact and operational data, powerful marketing tools and analytics, up-to-date regulatory information, daily news alerts, and compliance verification capabilities in one easy-to-use platform. License holders are eligible for a free account by simply completing their profile. For more information, visit http://www.cannabiz.media.