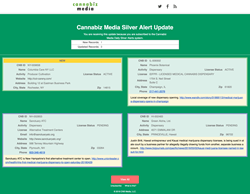 Daily alerts are essential to keep up with the cannabis industry.
Connecticut (PRWEB) May 24, 2016
Cannabiz Media has launched Marijuana License Alerts which provides actionable marijuana license information through email to subscribers from its database of over 10,000 cultivator, producer, dispensary, and retail licenses. Daily or weekly email alerts are used by sales, marketing, investing, and research professionals as well as regulators who need current data to make strategic decisions, close sales, and evaluate investments, acquisitions, and more.
"The response to Marijuana License Alerts has been extremely positive," explains Cannabiz Media President Larry Schwartz. "Vendors rely on Cannabiz Media Alerts to provide fresh customer leads to their sales teams, and Financial Analysts and CPAs use Cannabiz Media Alerts to conduct essential valuation analyses for their clients' activities. Since the daily and weekly Alerts are packed with useful data and features, users can integrate the information directly into their workflows for more powerful and timely decision-making."
Cannabiz Media's Marijuana License Alerts deliver six key features at launch:

Export: Users can export data to share with their sales teams, import data into customer relationship management software programs, and efficiently and effectively manage new leads.
People: Gold tier customers get access to specific contacts at firms holding marijuana licenses.
New Licenses: Alerts tell users when new licenses are issued and in which states.
License Updates: Cannabiz Media tracks over 40 data fields in Marijuana License Alerts, so users are notified when key license information changes.
Social Connections: Cannabiz Media appends marijuana businesses' social media activities to its database and makes available any relevant information through alerts.
News: Users receive useful articles about specific licensed businesses, licensing trends, and more, which the Cannabiz Media team editorially selects from reliable news sources.
"The marijuana industry's growth expectation is forecasted at 25% to 30% in 2016 followed by massive growth in the next three years," says Cannabiz Media Vice President of Government Relations Ed Keating. "In 2015, the marijuana economy was valued at $3 billion, but it is expected to grow to $22-$29 billion in 2019. It's also an industry that is changing on a daily basis with new states legalizing medical and recreational marijuana, new regulations being passed, and businesses entering and exiting the market. Daily alerts are essential to keep up with the cannabis industry. Cannabiz Media has built technology that collects all of the marijuana license data across the country and quickly disseminates it to the people who need it to do their jobs, to thwart risks, and to seize opportunities in the growing and evolving marijuana economy."
Marijuana License Alerts are offered in three tiers—Bronze, Silver, and Gold—Bronze customers receive weekly alerts about new licenses with export capability. Silver customers receive daily email alerts about new licenses, license updates, and marijuana industry news with export capability, and Gold customers receive the same features as Silver customers with the addition of contact information for key people and social connection insights.
To learn more about Marijuana License Alerts, visit http://cannabiz.media/alerts.
About Cannabiz Media LLC
Cannabiz Media acquires and maintains up-to-date data on over 10,000 marijuana licenses, making it the most comprehensive U.S. marijuana licensing database available. Led by a team of content and data experts with domain expertise in regulatory and corporate information, Cannabiz Media helps journalists, regulators, researchers, business people, and investors understand and confidently operate in the evolving U.S. marijuana marketplace. Marijuana industry stakeholders use the Cannabiz Media Alerts and state research reports to easily access and make sense of the industry so they can make informed business, regulatory, and reporting decisions. For more information, visit http://www.cannabiz.media.