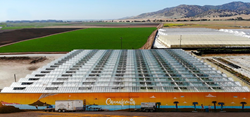 Cannafornia is one of the biggest and most profitable cannabis cultivators in California - the most competitive market in the country.
SALINAS, Calif. (PRWEB) February 07, 2020
"Fortunes are built when the market is down and fortunes are collected when the market adjusts," said Paul King, Cannafornia CEO.
Cannafornia launches a real estate fund to acquire cannabis cultivation facilities in emerging markets.
Cannafornia is one of the biggest and most profitable cannabis cultivators in California - the most competitive market in the country. Our goal from day 1 was to race to become a major cultivator with a focus on profitability. It didn't have to be a huge profit, but as long as we're not losing money we will be self-sustaining and will be fine. That was the mantra.
Since we launched 24 months ago our investors saw their stock rise from 20m to 90m.
There are a lot of people in the industry that are timid right now. They're low on cash and they don't have access to grow. They're in a tough position, especially if they're not cash flow positive at the moment.
Medmen is a good example. If you've heard me speak at conferences since 2018 when Medmen was a billion dollar stock I've been saying that Medmen is doomed and now with the dip in the market, we're seeing it all play out.
Over the past 5 years I've gained so much knowledge and experience and been through so many ups and downs that I feel I have the pulse on the industry and can evaluate a cannabis opportunity as well as anyone. Being hands on, living on the farm, seeing the market develop, I know what operators have to go through and how they're thinking. That knowledge paired with my incredible team, my shareholders knowledge of banking and finance, it's like a dream team. And now, with the dip in the market, the real estate opportunity opened and we're activating the dream team!
I got together with my executive team to discuss whether we should start the Cannafornia Acquisition Fund, our thinking was;
1. Cannafornia is among the best greenhouse growers, and we know more about cannabis than anyone from the banking or finance industries,
2. Due to lack of funding in the US cannabis space, valuable emerging market assets are undervalued at the moment. We've seen this movie before in California and feel we have our pulse on how it'll play out in other markets
3. At the same time, Cannafornia has over 150 investors, many of whom are very connected and capable of raising any amount of money for a smart and sound project.
So with all of that in mind, we decided to launch the Cannafornia Acquisition Fund, which just launched a few days ago and already has 500k sq ft under contract.
And of course, it doesn't hurt to have Cannafornia as a potential tenant.
For more information, subscribe to the mailing list at https://investcannafornia.com.