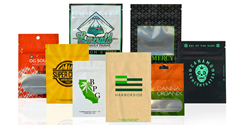 The need for cannabis products and packaging remains strong
ELKRIDGE, Md. (PRWEB) April 20, 2020
During the current pandemic, when hundreds of thousands of business have been forced to close, Cannaline Cannabis Packaging remains open as an essential part of the cannabis supply chain. While Americans are forced to stay home, the demand for medical and recreational cannabis products and packaging remains strong.
Cannaline Custom Packaging Solutions has been an industry innovator and leader in cannabis packaging design and supply chain management since 2009. Deploying technology to maintain the exceptional customer service and quick shipping for which the company is known, has allowed most of their employees to work remotely during these difficult times.
"Our customer service, bi-coastal warehouses, and logistical support systems remain strong with built-in redundancy. Sea containers are arriving on schedule and orders continue to ship the same, or next day. We have stocked additional inventory to quickly meet any surge in demand, and our manufacturing facilities are able to produce custom print projects in as little as 2 weeks", says Arnold Heckman, CEO of Cannaline.
The company's resources have been maximized to meet increased client demands during this time. So, it's not just business-as-usual for this innovative company that started the cannabis custom packaging industry more than a decade ago.
Company Information: Cannaline has been manufacturing and distributing both stock and custom packaging solutions for the cannabis industry since 2009. As an industry leader, Cannaline was the first company to design and manufacture customizable printed glass jars, smell-proof mylar bags and concentrate containers. Cannaline's professional design and engineering staff have created some of the most iconic product designs, logos, and branding in use today by hundreds of medical and recreational cannabis companies. Contact Cannaline at 301-356-9096 or on the web at http://www.cannaline.com