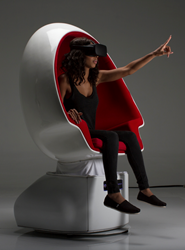 "We're thrilled to support Cannes XR and Positron in recognizing the bold vision of talented voices who are using this immersive medium to offer fresh and authentic stories that connect with a global audience," said Davis.
LOS ANGELES (PRWEB) June 11, 2020
Cannes XR Virtual and Positron, a leader in XR Cinema, announced the jurors and finalists of the inaugural Positron Visionary Award for Best Cinematic VR, and details on the special VR screening program showcasing the frontrunners' experiences hosted by The Marché du Film Online and the Museum of Other Realities during the all-virtual event set for June 24-26, 2020. Award finalists will be offered a worldwide distribution deal by Positron. The winner of the Award will be announced in a VR ceremony on June 26th at 12:00pm PST and will receive a Voyager® VR chair package delivered to their studio or office and support for bringing their VR film to the Positron XR network.
Viola Davis, Co-Founder & CEO of JuVee Productions, serves as president of an esteemed jury including Christina Lee Storm, XR Producer, "How to Train Your Dragon: The Hidden World Virtual Tour" / "Dragons Flight Academy", Jake Sally, (Head of Development, RYOT a Verizon Company), John Canning (Executive Producer – New Media & Experiential, Digital Domain), Josh Nelson (Head of Immersive & Interactive Media, JuVee Productions), and Jeffrey Travis (CEO / Producer at Positron). "We're thrilled to support Cannes XR and Positron in recognizing the bold vision of talented voices who are using this immersive medium to offer fresh and authentic stories that connect with a global audience," said Davis. JuVee Productions, helmed by Davis and her husband Julius Tennon, is an artist driven, production company that develops and produces feature films, television, theater, immersive, and interactive content.
Positron CEO Travis added, "Positron was built with a passion to elevate cinematic VR, and through this event we honor some fresh new creatives telling stories in this medium. While Positron is known for its unique VR motion chairs and location-based entertainment platform, we see the virtualization of Cannes XR as an opportunity to help bring the best VR content to audiences. We're excited to partner with Cannes XR and these filmmakers for this first-ever kind of event in VR itself."
Nearly 200 immersive entries were submitted for the Award. The six finalists of the Positron Visionary Award competition are:

Enter The Tomb, Joel Newton
Everest VR, Jon Griffith
Gravity VR, Fabio Rychter
The Great C, Michael Masukawa
Lutaw, Michaela Holland and Samantha Quick
Wingwalker VR, Malvina Martin and Max Salomon
During the Cannes XR Virtual event open to VR headset users, finalists will screen their work at the Positron XR Cinema on the Museum of Other Realities (MOR) online platform starting June 24th. The entire virtual program will remain available until July 3rd via the MOR application on Steam, Viveport, or Oculus. Cannes XR Virtual 2D live video stream shot by a virtual cameraman from the MOR, including conferences, pitching sessions and project presentations, will be accessible on the Marché du Film Online. Cannes XR Virtual 2D live video stream will also be available on the Tribeca Film Festival and Kaleidoscope.
A network of partner Location Based Entertainment (LBE) in several major cities in the United States, China and France will offer access to Cannes XR Virtual to journalists and guests who do not have a VR headset. In Los Angeles, Positron will serve as the LBE location for the event.
Cannes XR Virtual is the destination where professionals from the traditional filmmaking industry, XR artists, independent producers, leading tech companies, location-based and online distributors will come together to imagine and shape the future of movies.
About Positron
Positron is on a mission to bring wonder and connection to all audiences through its platform for immersive storytelling. Based in Los Angeles, the team includes filmmakers, mechatronics engineers, designers, software developers and artists. Positron is best known for Voyager®, an award-winning, full-motion VR chair platform that has been called "the future of movies." The Positron XR Cinema, based on the Voyager system, is available for location-based entertainment venues. Positron XR Cinema is also developing the digital platform for XR content. Positron has worked with leading creators in VR as well as companies such as Universal Studios, Disney, Dreamworks, Verizon, Intel, and many more to bring cinematic VR experiences to audiences around the world.