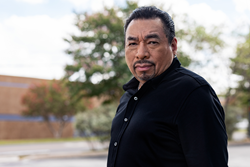 Knowing that San Antonio is a City rich in culture and coming from a family that has its own health issues, I have seen up close what a lack of health care can do to a family and a community... I feel it is extremely important for me to use my platform to raise awareness and promote quality health c
SAN ANTONIO (PRWEB) August 28, 2020
Cano Health, LLC, a leading population health management company and operator of primary care medical centers in Florida and San Antonio is happy to announce that it has selected Tejano musician Jay Perez as ambassador for its South Texas medical centers.
In this capacity he will serve as community advisor, advertising talent, and creative consultant for Cano Health, helping the company build brand awareness and championing programs that resonate with the local community.
Mr. Perez, known to many as "The Voice", is an award-winning Tejano singer-songwriter and native San Antonian with a deep understanding of the community. "Knowing that San Antonio is a City rich in culture and coming from a family that has its own health issues, I have seen up close what a lack of health care can do to a family and a community... I feel it is extremely important for me to use my platform to raise awareness and promote quality health care," says Perez.
Edward Vargas, Texas Vice President for Cano Health, says the company is dedicated to transforming healthcare for San Antonians and its seniors by activating excellence in primary care, in-home visits, pharmacy delivery services, and expanded telemedicine for patient safety and convenience.
"Jay is an important local influencer in the San Antonio community. His dedication to our community and his character reflect our core values," says Vargas. "We want San Antonio to know that Cano Health is committed to improving patient and community health by delivering superior primary care medical services, while forging a life-long bond with our patients."
San Antonio is Cano Health's first stop as part of its national expansion. The company will soon be opening a retail location and full-service medical center at 7031 Marbach; and three other medical centers at 100 S. Zarzamora, 2925 West Ave, and 6623 Zarzamora by the end of the year.
About Cano Health
Cano Health operates primary care centers and pharmacies and supports affiliated clinics in Florida, Puerto Rico, and now San Antonio that specialize in primary care for seniors. As part of its care coordination, Cano Health provides sophisticated, high-touch population health management programs such as home visits, telehealth, transition of care, and high risk & complex care management. Cano Health's personalized patient care and proactive approach to wellness and preventive care is what sets it apart from competitors.
Cano Health was recently recognized by Inc. magazine for the second consecutive year as the fastest-growing health care company in the nation and 39th among all US companies as part of its annual 5000 ranking. For more information visit http://www.canohealth.com.
Media Contact
Barbara Ferreiro
bferreiro@CanoHealth.com