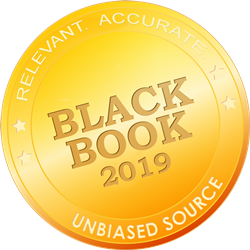 "We are honored to be recognized by our clients and by one of the leading voices in the industry," said Krista Endsley, President and CEO of Cantata Health."
AUSTIN, Texas (PRWEB) March 04, 2019
Cantata Health, a leading provider of electronic health records (EHRs) as well as financial and revenue cycle management (RCM) solutions that improve the health of communities and the organizations that serve them, was named the winner of Black Book Research's 2019 Highest Client Satisfaction Awards for their NetSolutions and Optimum platforms. The awards were:

#1 Client Satisfaction for Enterprise Resource Planning software
#1Client Satisfaction for Long-Term Care Technologies
#1 Client Satisfaction for Hospital Revenue Cycle Management
Black Book polls and surveys healthcare executives and frontline users about their current technology and service partners, and awards top-performing vendors based on indicators of client experience, loyalty, and customer satisfaction. Cantata Health was presented with the awards during the HIMSS 2019 conference.
This is the fourth year in a row that Cantata Health has been acknowledged for excellence in client satisfaction by Black Book Research, an independent entity focused on understanding the unique needs and issues of the healthcare industry.
"We are honored to be recognized by our clients and by one of the leading voices in the industry," said Krista Endsley, President and CEO of Cantata Health. "In the ever-changing world of healthcare, Cantata Health is focused on partnering with our clients to continuously enhance our software and services so we can improve visibility across the continuum of care and ensure these facilities grow and sustain their ability to provide quality healthcare to their communities."
Cantata Health's NetSolutions, a modern EHR and financial management platform, integrates data in real time to deliver the highest quality of resident care, receive payments and reimbursements quickly, and allow skilled nursing facilities and assisted living communities to securely exchange data with other healthcare providers for complete resident visibility across the continuum of care.
Cantata Health's Optimum platform for acute and post-acute facilities features RCM, financial management, and EHR software that is not only configurable to meet the unique needs of each facility or system, but also provides staff and administrators with predictable financial outcomes, revenue recovery, and clinical efficiency.
To learn more about Cantata Health's software and services, please visit https://cantatahealth.com
About Cantata Health
Cantata Health delivers award-winning software for acute, post-acute, and long-term care (LTC) facilities that is purpose-built to improve the health of the facilities and their patients. With Cantata Health's Revenue Cycle Management (RCM), financial management, and Electronic Health Records (EHR) software and solutions, leaders can have the confidence to make informed clinical and billing decisions. Headquartered in Austin, Texas, our solutions were made by experts who have managed millions of patient profiles for over forty years, providing uncommonly attentive insight into each organization's unique needs, now and in the future.