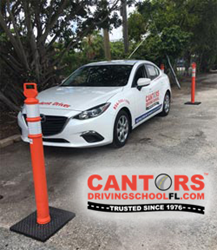 Owner Frank Cantor comments: "Cantor's Driving School recognizes the unmet need for parallel parking lessons from seasoned professional instructors to help Florida teens and adults learn to park safely, quickly and easily."
Atlantis, FL (PRWEB) June 02, 2017
Cantor's Driving School announces that it is now offering parallel parking lessons at its Atlantis Florida office. To launch this new service, there will be kickoff event on Sunday June 4, 2017, where complimentary parallel parking lessons will be given for 2 hours from 10 AM to Noon.
Cantor's Driving School is the only school in South Florida offering parallel parking lessons (http://www.cantorsdrivingschoolfl.com/parallel-parking.html), teaching the skills needed to be able to quickly and easily park a vehicle on the street between two other cars.
Cantor's professional instructors provide parallel parking training as follows:

Parallel parking lessons are given only at the Cantor's Driving School office location at 3576 Lantana Rd, Atlantis, FL 33462
Lessons are given on Thursdays and Fridays only from 9 AM to 4 PM
Lessons are 20 minutes long
The cost is $20; payment is due at the time of the lesson
Call 954-740-1103 to schedule a lesson or simply walk-in
Parking lessons will be given only in the Cantor's Driving School vehicle
Students must have a valid driver's license or learner's permit to take parking lessons
Owner Frank Cantor comments: "Cantor's Driving School recognizes the unmet need for parallel parking lessons from seasoned professional instructors to help Florida teens and adults learn to park safely, quickly and easily."
About Cantor's Driving School - The Driving School That Gets Results®
Cantor's Driving School is one of the longest continually operated driver training schools in the nation. Over 40,000 drivers have learned to drive with Cantor's Driving School, which was started in Pennsylvania in 1976. Cantor's Driving School is a Florida state-registered driving school (license #4032) and a member of the Florida Professional Driving School Association (FPDSA), the Safe Teen Driving School, and the Driving School Association of the Americas (DSAA).
Cantor's Driving School offers private, one-on-one, on-the-road driving lessons (http://www.cantorsdrivingschoolfl.com/driving-lessons.html) 7 days a week, day and evening hours, with door-to-door service, with money-saving packages of driving lessons (http://www.cantorsdrivingschoolfl.com/driver-training-packages.html). It also offers a convenient Florida state-approved driver's education online courses, including the Florida First Time Driver mandatory course, permit prep test, and official DMV permit test.
Contact Cantor's Driving School
For more information or to inquire about driving lessons, online driver's courses or other services, please call the southeastern Florida office at 954-740-1103 or visit Cantor's Driving School website at http://www.CantorsDrivingSchoolFL.com.