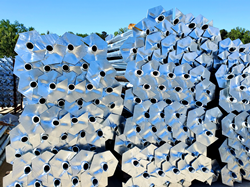 "Companies like Payne that have achieved widespread respect and recognition are valued partners in Cantsink's commitment to creating a sustainable built environment."
ATLANTA (PRWEB) May 19, 2020
Cantsink proudly announces that Payne Pile Company, a division of Payne Construction Services, has joined its distribution network for top-quality, U.S. steel helical piles.
Founded by Brian Payne in 1974, Payne Construction Services and Payne Pile Company are now operated by his son, Sean Payne, with his wife, Missy, providing administrative support and Geoff Goss providing hand-to-hand customer and product support. The Payne headquarters, including a 10,000 square foot materials storage facility, is located in New Hampshire, with a satellite facility in Connecticut. Payne provides helical piles to customers in the Northeast region with products delivered to site or picked up locally.
Both Cantsink and Payne Piles are family owned and operated, making Cantsink's reputation for quality, customer support, and innovation in helical piles a perfect fit for Payne's demonstrated devotion to excellence. Cantsink has more than 30 years' experience in the foundation support business. Payne, also respected in its industry, has received numerous industry awards for innovation and successful endeavors.
Both companies are focused on the many versatile uses of helical piles for construction and remedial structural support. Geoff Goss, Payne's Director of Business Development, said the top-quality products and ongoing customer support Cantsink provides creates supply-chain assurance for every application.
"We are hands-on with everything we do," Goss said. "The support we receive from Cantsink reflects the way we like to do business. They always respond promptly to our questions, and we don't always get that from a lot of other companies. They help us and back us all the time. These are good, quality products to install, at a great price as well."
In addition to their patented helical design, Cantsink products provide the reassurance that they are tested and certified to the highest industry standards. And with Cantsink's long-standing commitment to sustainability, projects seeking LEED certification may be able to claim LEED credit from using Cantsink products.
Patrick Hutchinson, Cantsink's President and Founder, said he is proud to have Payne in the company's network of dependable distributors.
"Companies like Payne that have achieved widespread respect and recognition are valued partners in Cantsink's commitment to creating a sustainable built environment," Hutchinson said. "When we work together to forge a reliable supply chain that respects the quality of our products, fair, reasonable pricing, and unwavering customer support, we help create communities where people can live, work and shop with confidence."
Payne customers for Cantsink helical piles can purchase them without paying sales tax, if they pick up the products at the New Hampshire location. They can always expect the kind of personal engagement Payne extends to every customer by working directly with Geoff or Sean for any of their needs.
"I always go the extra mile for our customers," Goss said.
For more information about Cantsink products and how installers can receive free, hands-on training at Cantsink headquarters, visit http://www.cantsink.com. To learn more about Payne Pile Company and Payne Construction Services, visit http://www.paynebuildingmovers.com .