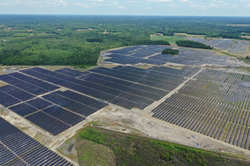 "Despite the challenges the solar market is facing, it continues to evolve with new technology and ongoing innovation. Cantsink products and services are evolving with it." Cantsink President Patrick Hutchinson
ATLANTA (PRWEB) July 23, 2020
For the eighth consecutive year, Cantsink has been named one of the Top Solar Contractors in the U.S. by Solar Power World Magazine.
This year, Cantsink ranked #11 on the list of Top 20 U.S. Solar Contractors, and also ranked second on the list of Commercial Solar Contractors. Solar Power World reviewed information on more than 400 companies across the nation in compiling the list.
Cantsink even ranked on the lists of top solar contractors for six Southeast/Mid-Atlantic states:

Virginia (#2)
South Carolina (#4)
Tennessee (#8)
Florida (#8)
North Carolina (#10)
Georgia (#13)
The Top Solar Contractors list is developed each year by Solar Power World to honor the work of solar installers big and small. Solar firms in the utility, commercial and residential markets are ranked by number of kilowatts installed in the previous year. Companies are grouped and listed by specific service (developers, electrical subcontractors, EPCs, installation subcontractors, rooftop installers), markets and states.
"The Solar Power World team is so pleased to highlight more than 400 companies on the 2020 Top Solar Contractors list, especially during this unprecedented time," said Kelsey Misbrener, senior editor of Solar Power World. "All contractors featured on the 2020 list reported strong 2019 installation numbers and are continuing to stand tall this year."
Cantsink provides branded equipment to solar installations along with services that supply the company's deep understanding of the solar industry. This year's collection of over 400 Top Solar Contractors is facing unprecedented challenges. The first quarter of 2020 was the country's biggest ever, with 3.6 GW of new solar capacity added. But COVID-19 impacts slowed that pace in Q2. Wood Mackenzie is forecasting significant declines in both residential and non-residential markets this year.
Cantsink remains proudly committed to serving the solar market through this downturn with expertise, high-quality products, and innovation, said Cantsink President Patrick Hutchinson.
"Despite the challenges the solar market is facing, it continues to evolve with new technology and ongoing innovation. Cantsink products and services are evolving with it. We are proud to offer innovations like our string inverter mounting product, Centric, which allows centralized design that makes construction faster and O&M easier," Hutchinson said. "Our core product, patented helical piers to support equipment pads for transformers, central inverters and battery storage containers, and our Brilliant Rack racking design are dedicated to making solar installations efficient to build, effective in operation, and easy to maintain for the life of the project."
In addition to persevering through this turbulent time in history, the 2020 class of Top Solar Contractors is increasingly adding energy storage to their offerings. Over one-third of this year's contractors are also featured on the exclusive 2020 Top Solar + Storage Installers list.
As solar projects increasingly include storage, and microgrid installations grow in popularity, the stability Cantsink helical piers place under heavy equipment pads is more important than ever. With Cantsink stability, solar+storage projects are protected from the disruption of sinking pads.
To learn more about Cantsink's products and services for the solar market, visit http://www.cantsink.com.