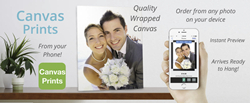 HUNTINGTON BEACH, Calif. (PRWEB) December 06, 2022
With the holiday shopping season around the corner, MailPix, the photo-printing, canvas and gifting site, continues to garner industry recognition for its innovative canvas printing app,Canvas Prints. Canvas Prints is available from the iOS App Store.
MailPix founder Fred H. Lerner was interviewed on the website App of the Day, where he shared the success story of the Canvas Prints app, which specializes in creating wall-worthy, museum-quality canvas prints for consumers.
To use the app, simply upload your own photos and select the desired dimension while positioning the image correctly. Once the user is happy with the way it looks, the order is placed and the personalized canvas print is delivered to the customer's doorstep.
This interview is the second time a MailPix app was recognized by App of the Day, following the site's recognition of the company's industry-leading 1 Hour Photo app. MailPix was also recently recognized by as an industry leader by The Web App Market. The app was featured for both of its iPhone and Android apps. The Web App Market described 1-Hour Photo as "a simple photo printing program that allows you to turn your memories into quality prints in less than an hour."
ABOUT MAILPIX.COM
MailPix.com is the pre-eminent site for printing photos instantly at thousands of retailers from the 1HourPhoto app including CVS, Walgreens, Walmart and Duane Reade and also offers convenient mail-to-home. MailPix preserves photo memories as photo books, canvas, prints, cards, enlargements and other photo gift products. The service is seamlessly integrated to print photos from any phone, device or computer. MailPix offices are located in Huntington Beach, Calif.
Fred H. Lerner is the founder and CEO of MailPix and 1 Hour Photo, his latest startups. He previously founded Ritz Interactive, which included RitzCamera.com, WolfCamera.com and others.  Fred also founded two imaging companies that were acquired by Kodak and became the CEO of Kodak Processing Labs. He is a United Nations Hall of Fame recipient from the International Photographic Council and Past President of the Photo Marketing Association International. 
Peter Tahmin, co-founder and COO of MailPix, was the former vice president at Ritz Camera & Image and co-founder, senior vice president and COO of the Ritz Interactive e-commerce network, which included RitzCamera.com, WolfCamera.com, BoatersWorld.com and others. He brings more than 25 years of e-commerce experience and a lifetime of imaging industry experience to MailPix.