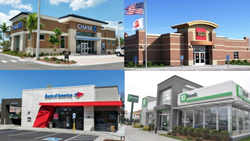 In the first quarter of 2020, the supply of bank ground leases was heavily concentrated in short term leases
WILMETTE, Ill. (PRWEB) April 29, 2020
The Boulder Group announced the release of its new Net Lease Bank Report today. In the first quarter national asking cap rates in the single tenant bank ground lease sector increased to 5.47%, according to the Q12020 Net Lease Bank Report This represented a 17 basis point increase when compared to the prior year.
"The continued increase in cap rates can be attributed to investor concern surrounding the future of consumer banking and a lack of new bank branch locations with long-term ground leases," says Randy Blankstein, President, The Boulder Group.
According to the report, the supply of bank ground leases is comprised of older buildings with shorter term leases with less than 10 years remaining. New bank branch locations remain in limited supply as banks have reduced their national expansion plans.
"In the first quarter of 2020, the supply of bank ground leases was heavily concentrated in short term leases," adds Jimmy Goodman, Partner, The Boulder Group. "For the second consecutive year, the median term remaining for the bank ground lease sector was below 10 years."
As a result, the premium in cap rates historically associated with bank ground leases has compressed considerably. In the first quarter of 2020, the premium for bank ground leases when compared to the overall net lease retail sector compressed from 97 to 68 basis points. Historically (between 2013 – 2015), it was common to see this premium in excess of 200 basis points.
Most of the new locations seen in the bank sector can be attributed to relocation and/or consolidation of existing branches. Thus, net openings of bank branches remains very limited. This is impacting the supply of supply of long term leased bank properties in a negatively.
"As a result of the limited supply of new construction bank branches, properties with long term ground leases are commanding the lowest cap rates in the sector," John Feeney, Senior Vice President, The Boulder Group adds. "This is especially true amongst the tier one bank tenants like Chase Bank, TD Bank and Wells Fargo."
In the first quarter of 2020, less than 10% of the overall bank ground lease sector was comprised of properties with 15 or more years remaining on their ground leases. As a result, bank ground leases with 20+ years of remaining lease term commanded asking cap rates of 4.40% while ground leases with 15-19 years of term asked 4.79%.
Investor interest in bank ground leases should remain as investors continue to value the credit quality of the tenants, passive nature of ground leases and favorable locations. "Demand for bank ground leases will remain fragmented between long term credit investors and others who desire the underlying real estate of the bank property," according to Blankstein. "In-place rental rates and bank branch deposits will be carefully scrutinized by bank ground lease investors."
About The Boulder Group
The Boulder Group is a boutique, Chicago-based investment real estate services firm specializing in transaction and advisory services for single tenant net lease properties. Founded in 1997, the firm has closed over $6 billion of net lease property transactions. The firm provides a full range of brokerage, research, advisory, and financing services nationwide. The level of annual, single-tenant transaction volume consistently ranks the firm in the top 10 companies nationally, according to industry benchmarks determined by CoStar and Real Capital Analytics.