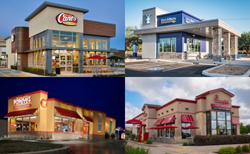 The primary reason for the increase in QSR cap rates can be attributed to the significant supply of franchisee leased properties in the market
WILMETTE, Ill. (PRWEB) September 02, 2020
The Boulder Group announced the release of its Net Lease Quick Service Restaurant (QSR) Report today. In the second quarter national asking cap rates in the single tenant QSR sector increased to 5.65% representing a 30 basis point increase when compared to the prior year, according to the report. Cap rates for corporate leased QSR properties were unchanged at a 5.20% cap rate while QSR properties leased to franchisees increased by 15 basis points to a 5.83% cap rate.
"The primary reason for the 30 basis point increase in QSR cap rates can be attributed to the significant supply of franchisee leased properties in the market," says Randy Blankstein, President, The Boulder Group.
In the second quarter of 2020, franchisee leased properties accounted for more than 70% of the market. Franchised locations make up the majority of QSR sector as primary brands including Burger King and KFC look to franchisees to fuel their growth models.
During the current Covid-19 pandemic, drive thru lanes allowed most QSR operators to limit the impact of reduced in-store dining on their businesses. Consumers of the QSR sector during this time favor drive thru locations as they are convenient and provide the ability to avoid larger crowds during the pandemic.
"Brands like Panera Bread stated that drive thru sales doubled during this pandemic and their preference to increase locations with drive thru lanes increased significantly," adds Jimmy Goodman, Partner, The Boulder Group.
Beginning in March, the Covid-19 pandemic's effect on the QSR sector impacted the acquisition criteria of net lease investors. During this timeframe, 1031 exchange and private net lease investors became more conservative and narrowly focused on tenant credit and lease term. Accordingly, new construction McDonald's and Chick-Fil-A properties continue to represent the lowest cap rates in the sector (4.00% and 4.03% respectively). In the second quarter of 2020, properties leased to corporate entities were priced at a 63 basis point premium over franchisee related properties.
"The expectation is that the gap between corporate and franchisee QSR cap rates will continue to widen throughout the remainder of 2020," John Feeney, Senior Vice President, The Boulder Group adds.
A recent poll conducted in August by The Boulder Group surveyed market participants regarding cap rate expectations for smaller franchisee backed leases. The overwhelming majority (59%) expect cap rates to rise by more than 15 basis point for properties leased to smaller franchisees (less than 25 locations) by the end of 2020.
The single tenant QSR sector will continue to garner demand as investors seek net lease investments backed by tenants whose business model was minimally impacted as a result of Covid-19. "There will continue to be a bifurcation between corporate/large franchisees and smaller franchisees as a flight to quality continues in this sector," according to Blankstein. "Additionally, net lease investors will be monitoring store prototypes as certain chains including Shake Shack launch their first drive thru locations and several existing tenants explore drive thru only formats."
To view the full report: https://bouldergroup.com/media/pdf/Net-Lease-QSR-Report.pdf
About The Boulder Group
The Boulder Group is a boutique, Chicago-based investment real estate services firm specializing in transaction and advisory services for single tenant net lease properties. Founded in 1997, the firm has closed over $6 billion of net lease property transactions. The firm provides a full range of brokerage, research, advisory, and financing services nationwide. The level of annual, single-tenant transaction volume consistently ranks the firm in the top 10 companies nationally, according to industry benchmarks determined by CoStar and Real Capital Analytics.