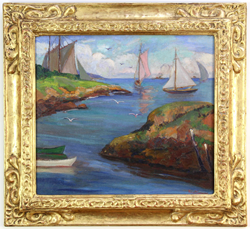 GLOUCESTER, Mass. (PRWEB) October 12, 2018
Kaminski Auctions presents the fine art collection of William H. Trayes Jr. (1928-2018) in a special auction on Saturday, October 27, 2018, at 10:00 AM EST to be held at the North Shore Art Association at 11 Pirates Lane, Gloucester, Massachusetts.
Bill and his wife of 63 years, Roswitha, were passionate collectors of the art of Rockport, Gloucester, and Cape Ann. Bill's knowledge of art and art history was vast, and the pair traveled to auction houses and art galleries throughout the Northeast in pursuit of their beloved Cape Ann artists. They were frequent visitors to the Kaminski Auction gallery and were often seated in the front rows bidding on another acquisition for their collection.
Bill was an active member of the Rockport Art Association, the Cape Ann Museum, North Shore Art Association and Montserrat College of Art. He and Rowintha founded what is now, the Waldorf School at Moraine Farm in Beverly, Massachusetts.
The William H. Trayes Collection includes outstanding artwork by Marsden Hartley, Winslow Homer, Emile A. Gruppe, Aldro Hibbard, George Sutter, Henry Martin Gasser, Frederick Judd Waugh, John Sloan, Lillian Westcott Hale,and sculpture by Paul Manship, Anna Hyatt Huntington, and Donald de Lue, among others.
Two beautiful scenes of the fishing industry of Gloucester by Milton Avery (1885-1965), are gouache paintings titled 'Gloucester Wharves', and 'Gloucester, Drying Racks.' 'Gloucester Wharves' was purchased in 1977 at the Julia Schneider Gallery in Great Neck, New York and featured in an exhibition titled 'Cape Ann Past and Present' in 1987 at the Judi Rotenburg Gallery, Boston, Massachusetts. 'Gloucester Drying Racks' bears a label from the Bernard Danenberg Galleries New York City, both are estimated at $15,000-$25,000.
A Marsden Hartley (1877-1943), featured in the sale is a charcoal on paper, titled 'Forest Scene' measuring twelve and a half inches by fifteen and a half inches. Presented in a custom silver leaf frame with linen mat it is estimated to bring $10,000-$15,000.
The Norwegian-American artist Jonas Lie (1880-1940), is represented in the collection with the painting, 'View of Gloucester, Rocky Neck,' oil on canvas. Originally purchased from the Grand Central Galleries, New York City, New York and exhibited at the North Shore Arts Association in 1998.
Other notable paintings in the collection include waterscapes and Gloucester and Rockport scenes by Fern Coppedge (1883-1951), Dennis Bunker Miller (American, 1861-1890), Ernest Fiene (1894-1965), Theresa Ferber Bernstein (1890-2002), Frederick Judd Waugh (American, 1861-1940), George Sotter (American, 1879-1953), William M. Chase (1849-1916) and an outstanding oil on canvas, titled 'Silvery Morning, Gloucester' from the quintessential Cape Ann painter Emile A. Gruppe.
An exceptional entry in the sale is a circa 1870, Winslow Homer (1836-1910), charcoal and gouache on paper, titled 'Boy with Cap.' Provenance of the work includes the William Vareika Fine Arts gallery, Newport, Rhode Island; Barridoff Galleries, Portland, Maine. The bill of sale states "This drawing is included in the Lloyd Goodrich and Edith Havens Goodrich/Whitney Museum of American Art Record of Works by Winslow Homer." A copy of a letter of authentication from Abigail Booth Gerdts accompanies this lot.
Winter and Vermont scenes by Aldro Hibbard (1886-1972), 'West River Vermont', Henry Gasser (1909-1981), 'Winter Steps' and, 'Meadow Stream, Vermont' by Emile Gruppe as well as a floral painting titled 'Zinnias', by Ukrainian artist David Burliuk (1882-1967), are among the exciting art on offer.
Bronzes by Paul Howard Manship (1885-1966), include several zodiac signs including 'Taurus', 'Aquarius', 'Libra', and 'Scorpio' all inscribed 'Paul Manship and several animal bronzes including 'Owl', with a greenish-black patina, inscribed 'P.M.', standing 3 inches high by x seven inches wide. According to information provided by John Manship, the artist's son, this work is a detail from 'Evening' a figural group from 'The Moods of Time' series, which was executed in 1938 for the New York World's Fair in 1939-40. The piece was purchased in 1986 at Sotheby's, NYC, New York.
There is also an excellent bronze by Donald de Lue (1897-1988) titled 'Phaeton' and a painting by Hugh Breckenridge (1870-1937), titled 'Abstraction #55', oil on board among the top lots of the sale.
Preview for this exceptional collection will take place at the North Shore Art Association, 11 Pirates Lane, Gloucester. Massachusetts, starting Sunday, October 21 12:00 PM to 5:00 PM and daily Monday, October 22-Friday, October 26, 10:00 AM-5: 00 PM and day of sale October 27, starting at 8:00 AM. Preview is open while the auction is live. For more information http://www.kaminskiauctions.com