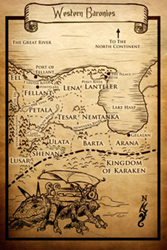 Wimsett's book presents an exciting plot of palace intrigue and political machinations spanning a continent… a captivating read within an immersive worlde. Readers will easily be hooked. - Booklife Prize
NEW MINAS, Nova Scotia (PRWEB) August 22, 2020
Half Awakened Dreams: Volume II of the Carandir Saga is the latest epic fantasy novel by David A. Wimsett that creates an immersive universe of magic and adventure where women and men are equal partners with the same rights opportunities and authority in confronting both personal and external forces, thus breaking from the often misogynistic trends of some fantasy books.
The monarchs of the mythical nation of Carandir cast a spell with a magical crown to subdue an evil dragon who was wounded, but managed to escape. The royals must complete the spell together before the dragon heals. The king is captured by a former lover who reveals the murderous son he unknowingly fathered. The son wants to kill his father, but the lover desires to possess the king's affections again and force him to make her queen of Carandir.
The true queen must rule the monarchy alone and rescue the king before the dragon awakes. During her quest, exiled nobles, who once followed the dragon, return to reclaim their lands and ignite hatred against those they consider racially impure, killing many and driving others out as refugees.
Author David A. Wimsett said, "I purposely conceptualized people from diverse ethnic backgrounds and cultures in a world where women and men hold the same power while telling a story with drama, humor, and philosophy."
Wimsett composed songs for the book and includes portions of the lyrics in the text with musical scores and complete lyrics in an appendix. He also created a language used by people in a desert region where much of the adventure takes place.
Half Awakened Dreams tackles themes of cooperation and selfishness, inclusion and prejudice, the desire to serve the people of a land and the desire for power over all. It asks what is good, what is evil, and what is simply weak.
Half Awakened Dreams is available in pre-order from Amazon, Barnes & Noble, Walmart and Indigo. It will be released on September 21st, 2020 in a Facebook Live Video presentation. Watch the Cape Split Facebook page, https://www.facebook.com/capesplitpress, starting on September 15th for an announcement of the time and web address of the event.
For more details. visit the, Cape Split Press website at https://www.capesplitpress.com/half_awakened_dreams.php or the author's website, https://www.davidawimsett.com/.