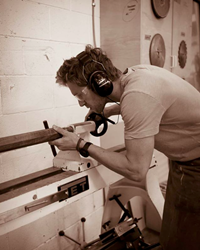 "The SBA 504 loan is a great way to go." – Dave Ball, Owner, Jacob May Designs
SAN FRANCISCO (PRWEB) January 08, 2020
Capital Access Group (http://www.capitalaccess.com), a commercial real estate lender specializing in U.S. Small Business Administration 504 loans for growing businesses, recently helped Dave Ball, the founder of Jacob May Design, secure $2.05 million in total financing through the SBA 504 loan program to buy a 13,000-square-foot property located at 1625 16th Street, in Oakland's Lower Bottoms neighborhood. Founded in 2013, Jacob May produces classic American furniture and accessories made ethically from sustainable materials. Ball was leasing the space prior to purchasing the property.
Woodworking began as a hobby for Ball, whose full-time career was in environmental remediation. However, after taking time off from graduate school to take an apprenticeship as a woodworker, he decided to enter the field on a full-time basis. In 2011, he took a project manager job at Hellman Chang in Brooklyn, and in 2013, he moved back to the Bay Area and rented a small space in a cabinet shop to start his business. Today, Jacob May's heirloom designs and accessories are sold throughout the country.
"I started out making cutting boards in a corner of a cabinet shop in Oakland," said Dave Ball, Owner, Jacob May Designs. "Once the business started taking off, I moved to the current location, which has been a woodworking studio for more than 30 years."
"When the property owner told me he was going to sell, I saw it as an existential threat to the business, because there wouldn't be any place nearby where I could move my operation," said Ball. "That's when I got motivated to buy it myself."
"Oakland is changing fast, and industrial space is disappearing, so I'm confident this was a good investment, and the SBA loan definitely helped," said Ball. "The main selling point was the ability to put less down, and then the rate turned out to be near an all-time low!"
"Now, I don't have to worry about someone kicking me out. Buying the property made me feel more settled," he said.
"The 504 program's interest rate had dropped below 4% for the first time in the program's 33-year history, so Dave's timing was perfect," said Claudia Cohen, Senior Vice President, Capital Access Group.
"Now he and his team can feel more settled in their new location, and the 504 program's low down payment allowed Dave to preserve cash and invest in improving the property and growing his business."
"Working with Capital Access was easy," said Ball. "When I had questions, they got answered quickly.
If anyone has the opportunity to acquire the property that they operate out of, I recommend making that leap, and the SBA 504 loan is a great way to go."
About Capital Access Group: Capital Access Group is a leading statewide Certified Development Company based in San Francisco, authorized by the U.S. Small Business Administration to provide long-term, fixed-rate financing through the SBA 504 loan program, which offers 90% financing to business owners for the purchase, renovation, or construction of commercial real estate for their growing businesses. Founded in 1981, Capital Access Group has helped thousands of entrepreneurs grow their businesses and realize their dreams of owning their own buildings. Currently, the SBA 504 interest rate is 3.58%, fully amortized and fixed for 20 years. For more information, please visit http://www.capitalaccess.com.