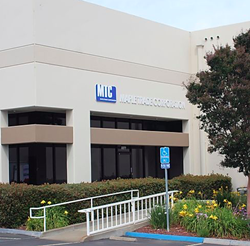 "The SBA 504 loan helps cash flow a lot." - Kelly Chen, CFO, Maple Trade Corporation
SAN FRANCISCO (PRWEB) January 28, 2020
Capital Access Group (http://www.capitalaccess.com), a commercial real estate lender specializing in U.S. Small Business Administration 504 loans for growing businesses, recently helped Maple Trade Corporation, a wholesaler of "to-go," eco-friendly, plastic and paper food storage containers, buy its own building as it expands operations in the U.S. Capital Access Group worked with Maple Trade to secure $11.5 million in financing to purchase the 53,413-square-foot warehouse located at 2851 McCone Avenue, Hayward, CA. The new space will be integral to the growth of the company's biodegradable and compostable paper container products division, and it will enable the company to increase its workforce by 25 percent.
Maple Trade Corporation was founded 14 years ago by Tsing Ng after he studied at City College in San Francisco. Ng grew up in China with a family history rooted in the manufacturing trade, and he recognized the potential opportunity for growth and innovation in the food container industry.
"My husband and I met at San Francisco City College," said Kelly Chen, CFO, Maple Trade Corporation. "He's always loved machines, especially the injection molding process used for the food container production."
The food container industry has shown steady growth over the years, as consumers and businesses seek cost-effective solutions that extend the shelf life of perishables and enable safe delivery of food. Today, as environmental concerns are at the forefront, there is a growing need for food packaging and storage products that are eco-friendly and reduce plastic use.
In addition to meeting the demand for sustainable food packaging, Maple Trade's innovations also include tamper-evident packaging so consumers will know if food delivery containers have been opened after leaving the restaurant.
Maple Trade's new warehouse, financed by the SBA 504 loan, will serve as the central hub for Maple Trade's paper products division, according to Chen.
"The new building is only two years old," said Chen. "Everything is new, and we love it."
"We went to the bank exploring a conventional real estate loan, and the bank referred us to Capital Access Group and the SBA 504 program," said Chen. "The monthly payment is low, so we can afford it; and the down payment is less than the conventional loan, so we have more capital to import more goods. The SBA 504 loan helps cash flow a lot."
"We were so excited to help Kelly & Tsing to grow Maple Trade's capabilities!" said Claudia Cohen, Senior Vice President, Capital Access Group. "When I learned about their innovations in the eco-friendly food packaging industry, I was so impressed by their thoughtfulness and forward-looking products. Maple Trade now has the warehouse space they needed to open new possibilities for their business to produce eco-friendly containers themselves and to reach new wholesale customers. Maple Trade was the perfect client to take advantage of the 90% financing and with the historically low rate they received, it could not have been better timing. We wish them the very best of luck!"
"Capital Access Group made everything so easy for us," said Chen. "They are a fantastic team."
About Capital Access Group: Capital Access Group is a leading statewide Certified Development Company based in San Francisco, authorized by the U.S. Small Business Administration to provide long-term, fixed-rate financing through the SBA 504 loan program, which offers 90% financing to business owners for the purchase, renovation, or construction of commercial real estate for their growing businesses. Founded in 1981, Capital Access Group has helped thousands of entrepreneurs grow their businesses and realize their dreams of owning their own buildings. Currently, the SBA 504 interest rate is 3.64%, fully amortized and fixed for 20 years. For more information, please visit http://www.capitalaccess.com.