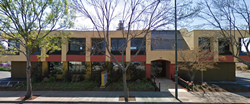 "We're growing, and we will continue to grow and expand," said Robin Hau, President & CEO, USWired Inc. "The new building has plenty of space, so we're going to take advantage of that."
SAN FRANCISCO (PRWEB) March 09, 2020
Capital Access Group (http://www.capitalaccess.com), a commercial real estate lender specializing in U.S. Small Business Administration 504 loans for growing businesses, recently helped USWired Inc., a provider of managed IT support and consulting services, access $3.7 million in total financing through the SBA 504 loan program to purchase and make improvements to an 8,192-square-foot facility located at 310 W. Hamilton Avenue in Campbell, CA. The new facility will provide the company with ample room to grow and expand.
Founded in 1996, USWired serves small and mid-sized companies throughout Silicon Valley and prides itself on consistently delivering the highest levels of client satisfaction. The company currently employs 32 people, and the new facility will enable it to add up to six employees in the near term with enough space to grow by another 50% in the future.
"We're growing, and we will continue to grow and expand," said Robin Hau, President & CEO, USWired Inc. "The new building has plenty of space, so we're going to take advantage of that."
Like many businesses competing in California's red-hot real estate market, USWired was facing a significant rent increase at the space they were leasing in San Jose. They needed to decide whether to renew the lease or purchase their own property. Once they learned about the SBA 504 loan program, which features 90% financing combined with low interest rates, their decision was much easier to make.
"Our lease was coming due, our rent was going to go up, and we compared it to what the mortgage payments would be and made the decision to purchase our own property," said Hau.
"The SBA 504 loan was very attractive for us," he said. "It has a low interest rate combined with a very low down payment. We only had to make a 10 percent down payment, which meant that we didn't have to tie up our cash in the purchase of this property. The benefits of purchasing outweighed renewing the lease."
Hau learned the SBA 504 loan program through his real estate broker, who referred him to Claudia Cohen at Capital Access Group.
"Capital Access Group made everything very smooth. Really, there were no hiccups," said Hau. "We just had to provide the required documentation. It was similar to purchasing a house. After we provided the paperwork, Capital Access Group did all the other legwork. It was a smooth process."
"We were so happy to help Robin and his team buy a building with plenty of space to expand, create new jobs, and serve more clients," said Claudia Cohen, Senior Vice President, Capital Access Group. "Now, they have more control over the future of their business, and their mortgage in the new space is just about the same as what they would have had to pay if they renewed their lease in their old location. We were pleased to play a part in their continued success."