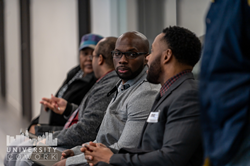 "Woodlawn and the greater Southside of Chicago is home to some of the most talented, hardworking people, and we deserve access to world-class amenities and capital," said University CoWork founder David C. Lubin. "Change is long overdue, and we are taking action now to make this happen."
CHICAGO (PRWEB) February 26, 2020
The University CoWork Business Credit Initiative is an unprecedented community capacity development action designed to direct financial resources to Chicago's South Side. "The research, free educational events, and cohorts of participants will direct millions of dollars in capital to South Side businesses and non-profits," said University CoWork founder David C. Lubin. The goal of the initiative is to legitimate area organizations, attract private capital, and invest in our community.
South Side Chicago residents know that their businesses and neighborhoods receive less investment than those on the North Side. This is readily apparent by stark differences in commercial options, potholes on roads, school quality, and struggles experienced by entrepreneurs trying to survive. Many are forced to use personal credit cards in order to self-fund their startups or get through difficult periods. A recent Woodstock Institute study shows that while 27% of Illinois businesses are located in lower-income census tracts, they receive 19.3% of loans totaling only 17.8% of monies loaned. The aggregate impact is a differential of 46,648 loans totaling $618 million. Because small businesses make up 99.6% of the businesses in Illinois and account for the employment of 45% - greater for women and people of color - of the workforce, the mismatch of investment has wide-reaching effects.
"Woodlawn and the greater Southside of Chicago is home to some of the most talented, hardworking people, and we deserve access to world-class amenities and capital," said University CoWork founder David C. Lubin. "Change is long overdue, and people who live and/or work in Woodlawn are taking action now to make this happen."
University CoWork, the first coworking space in Woodlawn and first full-service Southside business accelerator, is excited to announce the launch of this Business Credit initiative. It will teach area businesses and non-profits the steps necessary to build a stellar business credit report to attract capital. These include building business legitimacy, opening and monitoring business credit files, establishing vendor/retail/revolving/fleet/cash credit accounts, and attaining loans / lines of credit.
This initiative will take the form of the research, trainings – including the dissemination of a step-by-step guide on how to build business credit – at University CoWork that are free and open to the public, and creation of Build Business Credit cohorts that use the coworking space and University CoWork-developed "living" / crowdsourced spreadsheet to work on this process together.
The Initiative was introduced at the University CoWork February Lunch & Learn (http://www.UniversityCoWork.com/2020businesscredit), and a follow-up events will occur on March 10, 2020 and April 14, 2020. Free tickets: http://www.UniversityCoWork.com/BusinessCredit.
The Business Credit initiative was inspired by a University CoWork member and Woodlawn native/resident Tiffany Williams – owner of Exquisite Catering and Events – who struggled to make payroll during a temporary downturn in business. Although exceptionally talented and accomplished, she lacked the financial network, personal credit, or open credit lines which could have helped. Unfortunately, this scenario is all too common in our community.
University CoWork was created to make meaningful economic and social impact by providing underserved neighborhoods access to downtown-quality business and professional resources within an inclusive and supportive culture. "We have already seen tangible results in terms of members, event participation, increased economic activity, and job creation," said Lubin. "It's through making connections, learning, jumpstarting productivity, and thus catalyzing achievement that we measure our success." Members come from Woodlawn as well as Avalon Park, Back of the Yards, Bridgeport, Bronzeville, Chatham, Englewood, Grand Crossing, Hyde Park, South Shore, the Northside, southern suburbs, and northwest Indiana.
University CoWork provides exceptional amenities, a supportive culture, and one of the largest business networks in Chicago, all at an amazingly affordable price point. It is open to the public Monday-Friday, 9am-5pm, and 24/7 for most members. Individuals interested in learning more are encouraged to book a tour at http://www.UniversityCoWork.com.