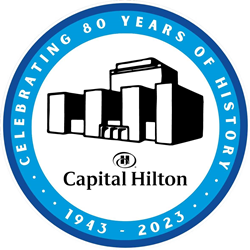 "Capital Hilton has been a pillar of our Nation's Capital and we invite both guests and locals alike to reflect on and celebrate 80 years of history with us this year."- Paolo Pedrazzini, General Manager
WASHINGTON (PRWEB) January 04, 2023
This month, the historic Capital Hilton will honor 80 years of hospitality and history following the building's debut on January 18, 1943. To honor the 80th anniversary, the hotel will celebrate throughout 2023 and feature special promotions, events, and food and beverage offerings to commemorate some of the hotel's most notable moments over the past eight decades.
Located just two blocks north of the White House and the National Mall, Capital Hilton has been the backdrop for numerous political events through the years as well as attracting tourists from far and wide to experience the sights, history and culture of the Nation's Capital.
"We are proud of the memorable moments this iconic property has played in the lives of so many. Not only have we played host to world-leaders, celebrities and guests from around the globe; we have been the backdrop for countless historical events and meetings that make this a truly special place," said Paolo Pedrazzini, general manager, Capital Hilton. "Capital Hilton has been a pillar of our Nation's Capital and we invite both guests and locals alike to reflect on and celebrate 80 years of history with us this year."
Anniversary Package
Throughout the year, guests can book the 80th Anniversary Package featuring an $80 food and beverage credit to use at the Statler Lounge or the North Gate Grill. Additionally, guests will receive a bottle of wine, Capital Hilton branded beverage tumblers, and Capital Hilton chocolates upon check-in. Rates for the 80th Anniversary Package start at $162.00 + tax.
Food and Beverage Programming
At the Statler Lounge, guests can enjoy a "Capital 80" - a Washington, DC specific version of the French 95, derived from a French 75, which was widely popular in the 1940's. The "Capital 80" is a potent mix of DC's own Borough bourbon, distilled in Ivy City by Republic Restoratives, shaken with fresh lemon and sugar, and topped with Domaine Ste. Michelle sparkling brut.
A Look Back at an Iconic Property
Capital Hilton originally opened its doors as The Statler Washington in the midst of World War II in 1943. In 1954, the property was acquired by Hilton and renamed the Statler Hilton in 1958 before later being renamed the Capital Hilton in 1977 as it remains today.
Throughout its history, the hotel has hosted its fair share of U.S. Presidents, Presidential Inaugural Balls and it was the first hotel to construct an official Presidential Holding Room, now known as the Continental Room. The property has also played host to celebrities, dignitaries and even civil rights leader Martin Luther King, Jr., who stayed on-property after delivering his renowned "I Have a Dream" speech.
In 2014, Capital Hilton was inducted into the Historic Hotels of America, the official program of the National Trust for Historic Preservation that celebrates and recognizes the finest historic hotels, inns, and resorts across the United States.
Today, Capital Hilton is central to top attractions, shopping, dining, museums and historic sites. Guests can kick-start the day with all-American cuisine featuring locally-sourced homestyle dishes for breakfast à la carte at Northgate Grill, and head to Statler Lounge for lunch, dinner, fine wines and microbrews served in a relaxing atmosphere. The on-site fitness center offers an extensive array of state-of-the-art cardio equipment and plyometric training boxes, a studio room, weights and kettlebells. With guest-focused amenities and a location in the very center of DC, the Capital Hilton offers a classic getaway in the heart of the nation's capital. Capital Hilton is part of Hilton Honors, the award-winning guest loyalty program for Hilton's 18 world-class brands.
Rates in January start from $162.00 + tax. Guests driving-in can also take advantage of the hotel's Park and Stay package featuring complimentary valet parking with rates starting from $194.00 + tax (subject to availability).
Capital Hilton is located at 1001 16th Street NW, Washington, DC 20036. For reservations, guests can visit capitalhilton.com or call +1 (202) 393-1000.
Read more about Hilton Hotels & Resorts at stories.hilton.com.
###
About Capital Hilton
Opened in 1943 and listed on the National Register of Historic Places, Capital Hilton has a proud tradition of welcoming the world's travelers to Washington, DC for nearly 80 years. The Capital Hilton has had the honor of hosting presidents, dignitaries, and countless notable leaders alike and is a Historic Hotels of America member hotel. Located two blocks from the White House and National Mall, the hotel is central to top attractions, shopping, dining, museums and historic sites. Visit capitalhilton.com for more information, and connect with Capital Hilton on Facebook, Twitter and Instagram.
About Hilton Hotels & Resorts
For over a century, Hilton Hotels & Resorts has set the benchmark for hospitality around the world, providing new product innovations and services to meet guests' evolving needs. With more than 600 hotels across six continents, Hilton Hotels & Resorts properties are located in the world's most sought-after destinations for guests who know that where they stay matters. Experience a positive stay at Hilton Hotels & Resorts by booking at hiltonhotels.com or through the industry-leading Hilton Honors app. Hilton Honors members who book directly through preferred Hilton channels have access to instant benefits. Learn more about Hilton Hotels & Resorts at stories.hilton.com/hhr, and follow the brand on Facebook, Twitter and Instagram.
About Hilton
Hilton (NYSE: HLT) is a leading global hospitality company with a portfolio of 18 world-class brands comprising more than 7,000 properties and more than 1.1 million rooms, in 123 countries and territories. Dedicated to fulfilling its founding vision to fill the earth with the light and warmth of hospitality, Hilton has welcomed more than 3 billion guests in its more than 100-year history, earned a top spot on Fortune's 100 Best Companies to Work For list and been recognized as a global leader on the Dow Jones Sustainability Indices for five consecutive years. Hilton has introduced several industry-leading technology enhancements to improve the guest experience, including Digital Key Share, automated complimentary room upgrades and the ability to book confirmed connecting rooms. Through the award-winning guest loyalty program Hilton Honors, the nearly 146 million members who book directly with Hilton can earn Points for hotel stays and experiences money can't buy. With the free Hilton Honors app, guests can book their stay, select their room, check in, unlock their door with a Digital Key and check out, all from their smartphone. Visit stories.hilton.com for more information, and connect with Hilton on Facebook, Twitter, LinkedIn, Instagram and YouTube.