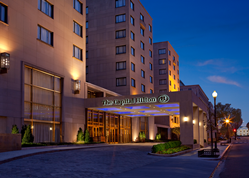 "Where better than Washington DC to honor romance of the past and celebrate love and romance for the future?" - Paolo Pedrazzini, general manager
WASHINGTON (PRWEB) February 01, 2023
This month, Capital Hilton will celebrate the season of love and companionship by paying homage to the famous Presidential couples that have graced the halls of the historic hotel for 80 years. The hotel will offer a romance package and culinary experiences to celebrate romance and friendships, all in the spirit of love.
"We are excited to extend a warm welcome to the couples who have chosen to celebrate their romantic holiday in the Nation's Capital," said Paolo Pedrazzini, general manager, Capital Hilton. "Where better than Washington DC to honor romance of the past and celebrate love and romance for the future?"
Capital Romance Package
Through February, guests can book the Capital Romance Package featuring a $50 food and beverage credit to use at the Statler Lounge or the North Gate Grill. Additionally, guests will receive a bottle of wine or sparkling cider, and chocolates upon check-in. Rates for the Capital Romance Package start at $237.00 + tax.
Food and Beverage Programming
At the Statler Lounge, guests can enjoy two cocktails, a pineapple mule and a bourbon punch, inspired by a famous Presidential pair. Guests are encouraged to guess the identity of this duo that have a connection to the property.
Additionally for President's Day, a lineup of Presidential-inspired cocktails will be available for guests to enjoy.
Capital Hilton is located at 1001 16th Street NW, Washington, DC 20036. For reservations, guests can visit capitalhilton.com or call +1 (202) 393-1000.
Read more about Hilton Hotels & Resorts at stories.hilton.com.
###
About Capital Hilton
Opened in 1943 and listed on the National Register of Historic Places, Capital Hilton has a proud tradition of welcoming the world's travelers to Washington, DC for 80 years. The Capital Hilton has had the honor of hosting presidents, dignitaries, and countless notable leaders alike and is a Historic Hotels of America member hotel. Located two blocks from the White House and National Mall, the hotel is central to top attractions, shopping, dining, museums and historic sites. Visit capitalhilton.com for more information, and connect with Capital Hilton on Facebook, Twitter and Instagram.
About Hilton Hotels & Resorts
For over a century, Hilton Hotels & Resorts has set the benchmark for hospitality around the world, providing new product innovations and services to meet guests' evolving needs. With more than 600 hotels across six continents, Hilton Hotels & Resorts properties are located in the world's most sought-after destinations for guests who know that where they stay matters. Experience a positive stay at Hilton Hotels & Resorts by booking at hiltonhotels.com or through the industry-leading Hilton Honors app. Hilton Honors members who book directly through preferred Hilton channels have access to instant benefits. Learn more about Hilton Hotels & Resorts at stories.hilton.com/hhr, and follow the brand on Facebook, Twitter and Instagram.
About Hilton
Hilton (NYSE: HLT) is a leading global hospitality company with a portfolio of 19 world-class brands comprising more than 7,000 properties and more than 1.1 million rooms, in 123 countries and territories. Dedicated to fulfilling its founding vision to fill the earth with the light and warmth of hospitality, Hilton has welcomed more than 3 billion guests in its more than 100-year history, earned a top spot on Fortune's 100 Best Companies to Work For list and been recognized as a global leader on the Dow Jones Sustainability Indices for six consecutive years. Hilton has introduced several industry-leading technology enhancements to improve the guest experience, including Digital Key Share, automated complimentary room upgrades and the ability to book confirmed connecting rooms. Through the award-winning guest loyalty program Hilton Honors, the nearly 146 million members who book directly with Hilton can earn Points for hotel stays and experiences money can't buy. With the free Hilton Honors app, guests can book their stay, select their room, check in, unlock their door with a Digital Key and check out, all from their smartphone. Visit stories.hilton.com for more information, and connect with Hilton on Facebook, Twitter, LinkedIn, Instagram and YouTube.