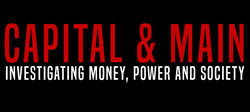 "It's so important for fact-based news outlets to shine a light on the defining issue of our time," says former Labor Secretary Robert Reich. "'United States of Inequality' is a timely reporting project."
LOS ANGELES (PRWEB) November 05, 2019
"United States of Inequality" will feature a story every week until Election Day 2020, in partnership with Guardian US, Fast Company and The American Prospect
Today, the award-winning nonprofit publication Capital & Main announced that it is launching a 12-month series on inequality in America, exactly a year before the 2020 Presidential election. The series, "United States of Inequality: 2020 and the Great Divide," will examine how tens of millions of Americans increasingly struggle to make ends meet, and how this reality will affect one of the most consequential elections in America's history.
"It's so important for fact-based news outlets to shine a light on the defining issue of our time," says former Labor Secretary Robert Reich. "'United States of Inequality' is a timely reporting project." "United States of Inequality" will be one of the most comprehensive media portraits of inequality and the future of the American Dream in the past decade and will feature at least one story every week for 52 weeks through the November 2020 election. The series will investigate the major presidential candidates and their records on inequality and include new revelations on the state of inequality in this country.
Guardian US, Fast Company and The American Prospect are editorial and distribution partners, ensuring a large national readership. Reich, a member of Capital & Main's advisory board, will help kick off the series with a short narrated video.
"We are undertaking this project because inequality is one of the driving forces in American society and American politics, and it's a central undercurrent in this historic election," said Jessica Goodheart, a senior reporter with Capital & Main and project lead for the series. "Elections have profound consequences, and few issues affect people more directly than inequality."
The project's content can be found at https://capitalandmain.com/united-states-of-inequality and will fall into the following five thematic areas, with stories representing all five coverage areas to be released throughout the 12-month duration of the project:
1. The State of Inequality in America: Reporting, analysis, infographics and videos about economic inequality in the U.S. leading up to the 2020 election.
2. The Primary and Economic Inequality: Analysis of the voting records of leading presidential candidates on issues related to economic inequality, including wages, labor law, taxes and corporate power.
3. Inequality in the Battleground States: On-the-ground reporting on how economic inequality is experienced by different ages, income groups and ethnicities, with an emphasis on key voting blocs in both primary and general election battleground states.
4. Inequality in Trump's America: Analysis and reporting on how the Trump administration's policies are exacerbating economic inequality.
5. What the Presidential Candidates Are Not Talking About: Coverage of economic policy proposals that have not been raised by presidential candidates but arguably should be part of the national conversation.
"'United States of Inequality' will shine a vital light on one of the nation's biggest problems -- its huge and widening inequality that has badly divided our nation and warped our nation's politics and policymaking," says Steven Greenhouse, former New York Times labor reporter and author of the just-released book on American workers, Beaten Down, Worked Up. "This important series of stories explores many of the serious problems that America's extraordinary inequality has caused or worsened across the nation."
Founded in 2012, Capital & Main is a nonprofit publication that was created to investigate inequality and produce solutions-based journalism on one of the defining issues of our time. Capital & Main covers both California and national stories, frequently partnering with major media outlets on distribution as well as editorial content. In the past five years, the publication has won more than 30 awards, including a Best in the West prize for its investigative series on Labor Secretary nominee Andrew Puzder and several awards from the Society for Advancing Business Editing and Writing. https://capitalandmain.com/