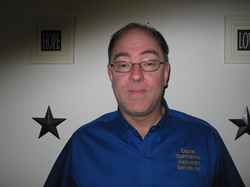 We are very excited to have Tony accept this position
ATLANTA (PRWEB) May 01, 2020
Capital Ophthalmic Instrument Service Inc. has officially added Tony Streib to its team of ophthalmic equipment professionals. Streib will take the role of Service Manager to better assist customers across the Southeast region. "We are very excited to have Tony accept this position," states Thelma Streib, company owner. "We've been around a long time, and we will be here a long time."
Founded almost twenty years ago by Dale and Thelma Streib, Capital Ophthalmic Instrument Service Inc. provides various ophthalmic equipment services including new and refurbished equipment sales and equipment repair, cleaning, and maintenance. Since 1973, Dale Streib has been working in the ophthalmic field, and now has over 45 years of professional experience.
The family-owned business states it is proud to keep the company in the family and that they will continue to provide services to its customers for many years to come. "We understand times are different right now for many of our vision and eye-care professionals. While patient traffic may be reduced with the stay-at-home recommendations, now is actually a great time to get your broken or unused equipment serviced," explains Dale Streib.
"We are open and doing everything we can to support our customers. Whether that means shipping equipment through FedEx or UPS or visiting your office and performing cleaning or repairs at your location, we are here and ready to help." The company ensures its technicians will be following all CDC guidelines, using gloves, and wearing face masks when performing services.
By providing repair and cleaning services to ophthalmic equipment, Capital Ophthalmic Instrument Service Inc. is deemed an "essential" service and will continue providing services during the Covid-19 pandemic. "While many companies are being affected by the economic situation, we can assure you we will remain open for business. We are excited to have Tony officially part of the team and look forward to the opportunities and the knowledge he brings to our company," Streib says.
To learn more about Capital Ophthalmic Instrument Service Inc. or to schedule a service, visit https://ophthalmicinstruments.org/ or call 1-770-231-5418.