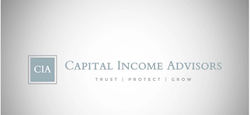 Usually, retirees' first reaction to market volatility is to do something that could be destructive in the long term when they don't need to.
SAN DIEGO, Calif., (PRWEB) May 31, 2016
Jeremy Keating of Capital Income Advisors (CIA) has announced the latest installment to his "The Retirement Formula: The Retiree's Guide to What You Don't Know" retirement advisory program. This newest chapter focuses on the relatively new field of behavioral finance, and how it can be applied to retirement planning strategies to minimize the impact of volatile markets on a retirement income plan.
Behavioral finance combines behavioral and cognitive psychological theory with conventional economics and finance to provide explanations for why people make the financial decisions they make, helping them identify mistakes they have made in the past and, ideally, avoid making them in the future.
According to Keating, expected or unexpected volatile markets can heighten anxiety over retirement security significantly. In fact, a recent American College survey of retirement income certified professionals showed that more than 60 percent of their clients are concerned about market volatility, which significantly increases concerns about retirement security. However, there are ways to create a plan that addresses this risk to retirement security.
Keating's newest "Retirement Formula" installment looks at strategies that retirees can use to minimize the impact of volatile markets on a retirement income plan from a behavioral finance perspective.
Market volatility is the main stimulant behind many bad financial behaviors such as buying high and selling low, Keating says. Retirees often react emotionally when the market drops and knee-jerk divest some of their equities. By resisting emotional triggers, investors can most likely minimize the damage by simply staying the course. A qualified retirement advisor can be extremely valuable in helping retirees avoid making emotional decisions during volatile markets to protect their retirement security.
"Usually, retirees' first reaction to market volatility is to do something that could be destructive in the long term when they don't need to," Keating says. "A trusted advisor can help them get through the unnerving market changes sensibly, and it's amazing how simply waiting it out can work to their benefit."
Selling investments and taking portfolio distributions in order to generate income to meet retirement expenses, and taking portfolio distributions during a volatile market puts retirees at risk for something known as sequence of returns risk. Sequence of returns risk is unique because until the investor begins withdrawing money from their investments, there is no impact on their portfolio. However, selling stocks right after a significant market downturn can lock in lower returns, which can negatively impact the longevity of their investment portfolio.
"If a client can be flexible when markets are volatile and avoid selling stock, he or she can greatly improve the longevity of their retirement portfolio," Keating says. "Although for many retirees, reducing market withdrawals may also mean reducing expenses, even if it is just for a short period of time, it's well worth the long-term benefits."
If flexibility with retirement income is not possible, retirees can consider securing enough guaranteed income sources to cover their basic retirement needs—a strategy often referred to as flooring. Flooring is usually accomplished through the use of a combination of investments and insurance products such as bonds and annuities that can help provide a predictable amount of income each month in retirement to meet expenses.
Coordinating annuity or bond purchases with other consistent income sources, such as pensions, Social Security payments or rental income can help provide confidence during volatile markets, allowing individuals to focus on enjoying their retirement instead of worrying about meeting expenses, according to Keating.
Other potential strategies may include tapping into non-market correlated income source, such as a home equity, or more specifically, a reverse mortgage that offers a non-taxable income. Reverse mortgages in the form of a Home Equity Conversion Mortgage (HECM) can provide a hedge against market risk and offer a permanent potential source of retirement income that can be tapped into whenever the markets drop.
Other potential sources of non-market correlated income could include withdrawals from the cash value of an annuity or life insurance policy.
Retirees need to understand the impact that market volatility will have on their income sources, according to Keating. While pension, payments are not subject to market risk, retirement assets like 401(k)s or IRAs are likely to hold stock investments that are subject to the risk of market volatility, and this is what feeds anxiety.
Behavioral finance strategies can help guide retirees to stay the course during volatile markets, look for ways to minimize the sale of their equities while they are down, and look for ways to tap into non-market correlated income sources. Investors who enter into retirement with a comprehensive retirement income plan with guaranteed income sources that protect against market risk will fare best throughout their golden years.
To learn more, visit the Capital Income Advisors website, email jkeating(at)capitalincomeadvisors(dot)com, or call (800) 875-1986.
About Capital Income Advisors:
The primary focus at Capital Income Advisors is retirement planning. Jeremy Keating and the CIA team of advisors treat their clients as they would treat members of their own family. CIA strives to help create sound retirement income strategies for men and women in or nearing retirement, thereby instilling confidence that their retirement income will last as long as they do.
Capital Income Advisors serve all of Northern and Southern California, all across Texas including, Houston, Dallas, Austin, San Antonio, Midland, and the New York Tri State area. CIA offers retirement income strategies, wealth accumulation, asset protection, annuities, life insurance, tax minimization strategies, long-term care, IRA and 401(k) rollovers.
Securities offered through Securities America, Inc., Member FINRA/SIPC. Advisory services offered through Securities America Advisors, Inc. and Arbor Point Advisors LLC. Capital Income Advisors, Securities America, Inc., and Arbor Point Advisors LLC are separate entities. Securities America and its representatives do not provide tax or legal advice; therefore it is important to coordinate with your tax or legal advisor regarding your specific situation.
###