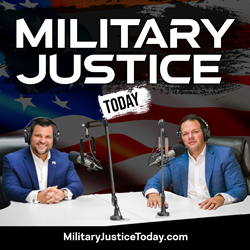 We want all of our brave men and women who defend our freedom to know where they should turn if they encounter a problem either stateside or overseas.
ATLANTA (PRWEB) September 15, 2021
The law firm of Capovilla & Williams recently launched the Military Justice Today podcast, available on all major podcast platforms, including Spotify, Apple, Stitcher, and Castbox. The bi-monthly show will cover a wide variety of topics impacting military service members in all branches of the U.S. Armed Forces as well as their families, JAG officers, judges, and federal, state, and local lawmakers. It will also include valuable commentary on current events such as the push to change the military justice system and potential impacts on future court martial, separation board, and ROTC disenrollment proceedings.
Co-host Robert Capovilla strongly believes there is a need for more understanding of how military justice issues affect both enlisted service members and officers. "The great majority of soldiers, airmen, marines, sailors, and guardsmen who find themselves involved in challenging legal issues have little-to-no knowledge of how the system works and how best to resolve their matter and move on with their careers and lives," said Capovilla. "The MJT podcast is a much-needed resource for them and their families, and will help alleviate the stress associated with navigating the military legal system."
Capovilla's law partner and decorated combat veteran, Mickey Williams, agrees with his assessment regarding the gap in knowledge associated with military law issues. "Our country does an exceptional job of training our service members to fight battles, but very little information is provided to them about how to avoid legal issues while serving," said Williams. "We want all of our brave men and women who defend our freedom to know where they should turn if they encounter a problem either stateside or overseas."
The show's format will be fast-paced and informal, but packed with information from some of the most experienced attorneys practicing military law today. Capovilla and Williams spent years in positions as both prosecutors and defense attorneys in the U.S. Army JAG Corps before opening their law practice which now represents clients worldwide. Their cases routinely involve service members of all ranks fighting to protect their freedom, careers, reputations, and personal lives.
To listen and subscribe to the Military Justice Today podcast, click here.
About Capovilla & Williams: Nationally recognized for its work on behalf of military service members, veterans, and their families, the attorneys of Capovilla & Williams bring an unmatched commitment to obtaining justice. The firm represents clients across the United States and internationally in matters ranging from court martials and administrative separation to discharge upgrades and other issues falling within the jurisdiction of U.S. military courts. The firm's attorneys are also known for their commitment to charitable groups and organizations that are dedicated to improving the lives of all community members, and especially veterans in need.