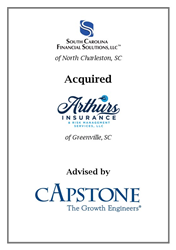 "Capstone's team identified Arthurs Insurance as a strategic acquisition candidate to help us expand. As we worked through the process, they successfully helped us build a personal relationship with Chris Arthurs, which has set us up for growth together for years to come."
VIENNA, Va. (PRWEB) December 05, 2022
Capstone Strategic, Inc. (Capstone) announced today that SCF Solutions, LLC, a CUSO owned by South Carolina Federal Credit Union headquartered in North Charleston, South Carolina, has successfully acquired the assets of Arthurs Insurance & Risk Management Services, an independent insurance agency located in Greenville, South Carolina.
To execute their strategic objective to grow their insurance CUSO further in the Upstate, and to deliver for an expanding membership base, SCF Solutions retained Capstone to provide buy-side M&A consulting expertise. Capstone worked closely with leadership throughout the research, candidate prioritization, and negotiation phases of the acquisition process.
"Capstone's team identified Arthurs Insurance as a strategic acquisition candidate to help us expand in the Upstate," said Joe Grech, President of SCF Solutions, LLC. "As we worked through the process, they successfully helped us build a personal relationship with Chris Arthurs, which has set us up for growth together for years to come."
SCF Solutions offers clients home, auto, and business insurance supporting South Carolina FCU's commitment to providing members with comprehensive financial solutions. The acquisition of Arthurs Insurance has immediately amplified their team's insurance expertise while increasing their client base, especially among business clients.
"SCF Solutions and Capstone have enjoyed a long-term relationship, focusing on privately held, not-for-sale acquisitions," remarked Capstone Strategic Partner John Dearing. "This latest strategic transaction involving Arthurs Insurance is an accelerator for their insurance CUSO."
About Capstone Strategic, Inc.
Capstone Strategic, Inc. is the leader in mergers and acquisitions for credit union service organizations (CUSOs). The firm helps CUSO and credit union leaders develop, evaluate, and implement growth initiatives. Established in 1995 by CEO David Braun, Capstone specializes in strategic not-for-sale acquisitions and corporate growth strategies and has facilitated over $1 billion in transactions in more than 100 industries. For additional information go to the Capstone website at https://www.capstonestrategic.com or call 703-854-1910.