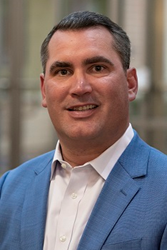 "Our shared client-centric approach and desire to continue improving the insurance and benefits distribution model for employers and employees alike [is what] makes Ed a tremendous addition to the Capstone team" - Kevin Fox, Managing Partner
PHILADELPHIA (PRWEB) May 29, 2019
Capstone Group, a leading provider of risk management, employee benefits, and insurance brokerage services, has announced the hiring of Ed Stefanski, Jr. as a Senior Benefits Consultant.
For the past 15+ years, Ed has held various positions within some of the most respected Employee Benefits and Banking institutions in the country. Ed's diverse experience in these areas, coupled with his consultative approach to creating and implementing cost-effective employee benefit programs, makes him an invaluable asset to Capstone's current and prospective corporate clients.
"Our management team has known Ed for a long time, both personally and professionally," said Kevin Fox, Managing Partner of Capstone Group. "His prior experience in various aspects of our business was certainly appealing, but it's more our shared client-centric approach and desire to continue improving the insurance and benefits distribution model for employers and employees alike that really makes Ed a tremendous addition to the Capstone team."
Ed joins Capstone Group to partner with employers on navigating rising healthcare costs and changing regulations. He brings expertise in financial analysis, health and welfare benefits consulting, and negotiation and risk reduction. He also specializes in the integration of new benefit programs and technology platforms to ensure seamless delivery for administrators and employees.
About Capstone Group:
Founded in 2013, Capstone Group is an independent risk management, employee benefits, and insurance brokerage firm. As an emerging firm in a mature industry, Capstone's mission is to provide results-driven solutions that transcend what our clients have come to expect from traditional insurance and benefits brokers. To accomplish this goal, Capstone's efforts begin and end with attracting and retaining the very best industry experts and client service representatives as a part of the team. To learn more about Capstone or submit an inquiry, visit https://www.capstoneinsgroup.com/contact.