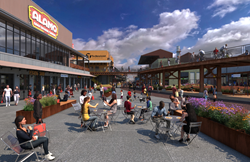 Significant buzz is building, national attention is focused on St. Louis
ST. LOUIS (PRWEB) March 03, 2020
CapStone Holdings, a business incubator and investment group, today announced its $40 million stake in City Foundry STL, a dynamic food-retail-entertainment-office project set to open this summer in the heart of downtown St. Louis.
CapStone represents one of the largest single-entity investors in the $210 million first phase of City Foundry, which will feature dozens of restaurants in a stylishly designed food hall, a cinema and other entertainment tenants, office space and more. City Foundry is a major midtown redevelopment project at the epicenter of $8 billion in new investment in central St. Louis, including the thriving Cortex Innovation Community District that already has attracted well-known technology giants.
"City Foundry matches our investment criteria in terms of high-growth location, a vision brought to life by established developers and entrepreneurs, and with long-term projected positive returns. The significant buzz that is building among the business community, the excitement among residents and the national attention this and other projects are generating for St. Louis all confirm the factors leading to our partnership in City Foundry," said CapStone Holdings Chairman & Founder Keith J. Stone. "This new 'heart' of St. Louis will be the predominant place to gather, eat, innovate and play."
"St. Louis is ready for this unique kind of experience and we are extremely pleased to have CapStone as a key funding partner in assisting us realize our vision," said Steve Smith, principal owner of City Foundry STL and CEO of Lawrence Group.
The Lawrence Group took over the 15-acre site, which included the former, decade-vacant Federal-Mogul foundry. The open-steel shell of the foundry will house St. Louis' first food hall and anchor a complex that includes pedestrian-friendly walks, three major entertainment venues, office space and more. City Foundry STL was among the reasons Curbed.com recently listed St. Louis as one of the top 10 cities to move to right now and selected among the Top 10 Opportunity Funds as part of the Forbes OZ 20: The Top Opportunity Zone Catalysts.
CapStone Holdings is a family office structured holding company that provides investment capital and strategic underwriting for real estate projects, global technology businesses and high growth opportunity tech and fin-tech startups. Founded in 2016 as CSI Kickstart, an investment arm of CSI Enterprises, the firm was reestablished in 2019 as CapStone Holdings Inc. after founder Keith J. Stone sold his 30-year-old company, CSI Enterprises, Inc. Today, CapStone Holdings has invested across a wide range of industries and focused philanthropic efforts in areas supporting youth and education. CapStoneHoldingsInc.com.
City Foundry STL is the adaptive reuse of the former 15-acre Federal Mogul Foundry complex in St. Louis' growing Midtown neighborhood. The iconic and historically significant foundry building will be transformed into a dynamic hub of innovation, complete with St. Louis' first true food hall. The $210 million first phase will include 122,000 square feet of restaurant and entertainment, 105,000 square feet of shops, and 107,000 square feet of office space. The project is being designed and developed by Lawrence Group. For more information, visit cityfoundrystl.com or connect with us on Facebook and Instagram.
Click here for a recent story on City Foundry.