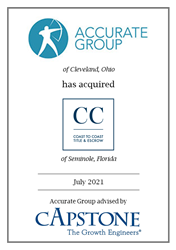 "Capstone's unique approach to not-for-sale, strategic acquisitions proved invaluable in helping us join forces with CTC and accelerate our growth with expanded title insurance and closing resources," said Paul Doman, President and CEO of Accurate Group
TYSONS, Va. (PRWEB) July 12, 2021
Capstone Strategic, Inc. (Capstone) announced today that Accurate Group, a leading provider of technology-driven real estate appraisal, title data, analytics, and e-closing solutions, has acquired real estate title and closing company Coast to Coast Title & Escrow (CTC) of Seminole, Florida. Capstone advised Accurate Group on this strategic, not-for-sale acquisition.
Accurate Group is a real estate technology and services lender delivering innovative solutions including property appraisal, title, data, analytics and digital closing, to banks, credit unions, services, non-banks and capital market firms.
The acquisition of CTC furthers Accurate Group's national title insurance and closing resources and expands its capabilities to service purchase mortgage closings in the fast-growing southeast US market. The deal also combines CTC's strong brand name and title and closing technology platform with Accurate Group's existing platform and loan origination system integrations.
With this acquisition Accurate Group is better equipped to continue to meet the demand for digital appraisals, title, closing and compliance services. As a third-party M&A advisor, Capstone identified CTC as an acquisition prospect, guided executing the letter of intent, and provided due diligence assistance and deal advisory to bring the deal to a successful close.
"Capstone's unique approach to not-for-sale, strategic acquisitions proved invaluable in helping us join forces with CTC and accelerate our growth with expanded title insurance and closing resources. With CTC's capabilities, we are excited to bolster our innovative offerings and continue delivering high-quality services to customers in a market where demand for digital services is strong," commented Paul Doman, President and CEO of Accurate Group.
"We are pleased to help our client Accurate Group build on their strong organic growth with the acquisition of CTC. The deal adds to Accurate Group's innovative technologies and platforms and enhances their services for customers," said David Braun, CEO, Capstone.
"We enjoyed working with the team at Accurate Group and CTC and crafting a deal to bring two strong companies together. We are very excited to see our clients realize their goals and look forward to helping Accurate Group continue its strong growth trajectory," said Matt Craft, VP, Capstone.
About Accurate Group
Accurate Group is a real estate technology and services leader delivering technology-driven property appraisal, title data, analytics and digital closing solutions to banks, credit unions, servicers, non-banks and capital market firms. By combining modern process automation, accurate data and innovative SaaS and mobile technologies, Accurate Group provides its clients with the best combination of speed, quality, regulatory compliance and price. With Accurate Group, the real estate finance community and consumers benefit from market-leading solutions that enable modern digital frameworks, improve accuracy, lower costs and improve compliance across all types of real estate loans, mortgage-related assets and real estate portfolios. Visit http://www.accurategroup.com.
About Capstone Strategic, Inc.
Capstone Strategic, Inc. is a consulting firm located outside of Washington DC specializing in proactive, external growth strategies, primarily mergers and acquisitions for the middle market and the credit union community. Founded in 1995 by CEO David Braun, Capstone has facilitated over $1 billion of successful transactions in a wide variety of manufacturing and service industries. Capstone utilizes a proprietary process, "The Roadmap to Acquisitions," to provide tailored services to clients in both North America and globally. Please visit Capstone's website for more information: http://www.CapstoneStrategic.com.