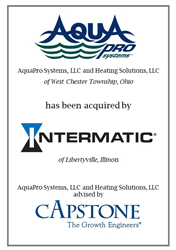 "Capstone's guidance throughout the process was invaluable," said Charles Murphy, AquaPro President. He went on to note that "having Capstone's experience on call gave us the confidence that Intermatic was the right home for AquaPro."
VIENNA, Va. (PRWEB) December 15, 2022
Capstone Strategic, Inc. (Capstone) announced today the successful acquisition of AquaPro Systems, LLC, and Heating Solutions, LLC, (Aqua Pro) of West Chester Township, Ohio, a leading manufacturer of pool and spa equipment, by Intermatic Incorporated of Libertyville, Illinois. Capstone advised AquaPro throughout the acquisition process.
In joining forces with Intermatic, AquaPro expands Intermatic's current pool and spa product line with a diverse range of products including pumps, filters, heat pumps, air blowers, and more. As an experienced provider of reliable, energy-efficient equipment for inground, above-ground, and soft-sided pools, AquaPro proved to be the ideal complement to Intermatic's electrical expertise in producing timer controls, surge protection, transformers, and electrical control panels for the pool and spa industry.
"Capstone's guidance throughout the process was invaluable," said Charles Murphy, AquaPro President. He went on to note that "having Capstone's experience on call gave us the confidence that Intermatic was the right home for AquaPro."
"As Growth Engineers, we were honored to be part of the process that ultimately united AquaPro with Intermatic," said Matthew Craft, Capstone Vice-President. "We are always delighted when our expertise and experience can play a part in bringing great companies together to provide new products and services to an expanded customer base."
About Capstone Strategic, Inc.
Established in 1995 by CEO David Braun, Capstone is the leading M&A advisory firm focused on strategic growth for the middle market, and specializing in privately-held, not-for-sale transactions. Over the course of more than 25 years, Capstone has facilitated over $1 billion in transactions in more than 100 industries. For additional information go to the Capstone website at https://www.capstonestrategic.com or call 703-854-1910.
About AquaPro Systems
AquaPro Systems' mission is to produce long-lasting, enjoyable products for the pool and spa industry. The company strives to make the swimming pool experience worry and hassle free by engineering reliable, energy-efficient, eco-friendly products. An extensive line of pumps, filters, heaters, air blowers, utility pumps, and more are designed to work together to keep pool or spa setups operating at their best. https://ecoaquapro.com/