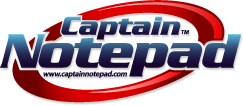 This magnetic calendar is so thin, that you can mail them with just one stamp
Englewood, CO (PRWEB) February 17, 2017
Captain Notepad (http://www.captainnotepad.com), a producer of image personalized calendars, custom notepads, magnetic notepads, and other promotional items, today released its 2017 top trends. The trends include coloring notepads, sports magnetic schedules, and ultra thin 2017 calendars.
The Coloring Notepad continues to be one of Captain Notepad's top selling products for small businesses and real estate companies. The notepads include customized contact information and unique coloring sheets. "This hot new trend has really taken off in the real estate world," notes Jace Rogat, President at Captain Notepad. The custom coloring notepads are available in single selected coloring design or up to five different coloring designs per custom notepad.
Captain Notepad has started to release its 2017 sports calendars for the upcoming sports year. The calendars include customized logo and contact information with a selected team's logo and calendar. The 2017 available sports schedules include: MLB, NASCAR, PGA, NBA, NFL, and more. "If your client base is a sports fan, they will love receiving these custom sports calendars to add to their fridge. Not only does it make a great promo gift, but it is also a great advertising tool," says Jace Rogat.
The Ultra Slim Magnetic Calendars can be mailed with one first class stamp. "This magnetic calendar is so thin, that you can mail them with just one stamp," says Jace Rogat. He continues, "It's ultra thin so perfect for mailing as a promotional gift. This hot item is one of our best sellers and can be ordered anytime of the year."
Captain Notepad offers these top trends and other customized notepads at http://www.captainnotepad.com. See website for promotions and special offers.
About Captain Notepad (https://www.captainnotepad.com)
Captain Notepad is the leading manufacturer of customized notepads and promotional items specializing in creative solutions to help brand a company's product and grow their business. Through competitive prices and great customer service, Captain Notepad has become the best source for custom notepads. What sets Captain Notepad apart is the short production time including rush production on most of the custom printed notepads.