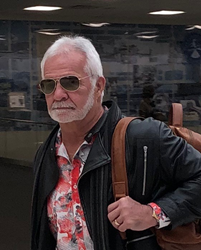 This relationship is a natural fit that we anticipate growing and evolving in the coming months.
MAUI, Hawaii (PRWEB) January 16, 2020
Maui Jim is excited to announce a nautical new name on its list of celebrity brand ambassadors. Starting 2020, Captain Lee Rosbach will be wearing Maui Jim exclusively, whether he's at the helm of a 180 foot super Yacht or relaxing with his bride poolside. "Maui Jim is thrilled to welcome boating legend Captain Lee aboard as an official Ambassador and member of our 'Ohana' (family). This relationship is a natural fit that we anticipate growing and evolving in the coming months," according to Maui Jim's Director of Sponsorships and Events, Alicia Choitz. "Any sea faring adventurer understands the importance of quality polarized eye protection while on the water, with unrelenting sun, damaging UV rays, and frustrating glare. Wearing Maui Jim sunglasses improves depth perception and clarity, both of which are critical when navigating vessels in shallow or rocky waters," adds Choitz.
TV's most beloved captain spent more than 25 years working on super-yachts before sailing his way to super stardom. "Captain Lee is stylish, classy and looks great in shades, making him a perfect fit for Maui Jim. This is exactly what a Yacht Captain should be wearing, a luxury brand with the highest level of PolarizedPlus® Lens functioning technology," says Gabriella Schwager, CEO of Stars Marketing Group, who brokered the deal.
About Maui Jim:
Born on the beaches of Maui, Maui Jim sunglasses were designed to protect eyes from the harsh rays of the island sun. Today, Maui Jim is the world's fastest-growing premium eyewear company and is sold in more than 100 countries. Maui Jim is recognized for its unparalleled "Aloha Spirit", customer service, and advanced, patented PolarizedPlus2® lens technology. All Maui Jim sunglasses deliver patented PolarizedPlus2® lens technology that eliminates 99.9% of glare, blocks 100% of harmful UV, and absorbs harmful HEV (blue light), while enhancing color, clarity and detail. Maui Jim sunglasses have earned the Skin Cancer Foundation Seal of Recommendation as an effective UV filter for the eyes and surrounding skin. For more information, visit http://www.mauijim.com or follow us on Facebook, Twitter or Instagram at @OfficialMauiJim.
About Stars Marketing Group
Stars Marketing Group is a full-service marketing company carefully aligning our clients with global, national, and regional brands that are endemic to their everyday lifestyles to create mutually beneficial partnerships. Stars Marketing Group specializes in Artist & Talent Representation, Contract Negotiations, Special Events (Personal Appearances, Meet and Greets, Live Events), Brand Ambassadorship Endorsements, and Strategic Partnerships. To learn more about Stars Marketing Group please visit starsmarketinggroup.com